U.S. Travel Association: International Arrivals Recovery by 2025
U.S. Travel released its updated international travel forecast during IPW 2022, which projects 65 million international arrivals in 2023 (82% of pre-pandemic levels). The forecast projects that international arrivals and spending will fully recover to 2019 levels by 2025. In an upside scenario, the U.S. could gain an additional 5.4 million visitors and $9 billion in spending by the end of 2022 if the pre-departure testing requirement were removed.
U.S. Travel's forecast extends to 2026 and also includes an analysis on where inbound travel should be in terms of growth had the pandemic not occurred.
This year's strong attendance at IPW signals a desire to resume robust inbound travel to the United States.
"This IPW is sending a message that the U.S. is open for business and eager to welcome travelers from around the world," said Dow. "We are taking a huge step forward here to bring back international travel, restore jobs, and re-establish the bonds that connect our countries and cultures."
Click here to view the forecast.
U.S. Travel Association is the national, non-profit organization representing all components of the travel industry. In 2020, travel generated $1.5 trillion in economic output and supported 11 million jobs, a drastic decline from pre-pandemic figures. U.S. Travel's mission is to increase travel to and within the United States. Visit ustravel.org for information and recovery-related data.
Source: https://www.hotelnewsresource.com/article121180.html
Photos Source: U.S. Travel Association Forecasts International Arrivals and Spending Will Fully Recover to 2019 Levels by 2025, Hotel News Resource
What does that mean for your business?
It means that your chances to increase sales are bigger than ever before. With our data you will be able to reach out to the complete market of hotels in your region and identify hot leads of the hotel industry. All data you need for the approach is available and most importantly is its exactness and accuracy. Many filters and selections to adapt your needs and to easily filter your exact target group.
1,050,000 Hotels and 1,700,000 Hospitality Decision Makers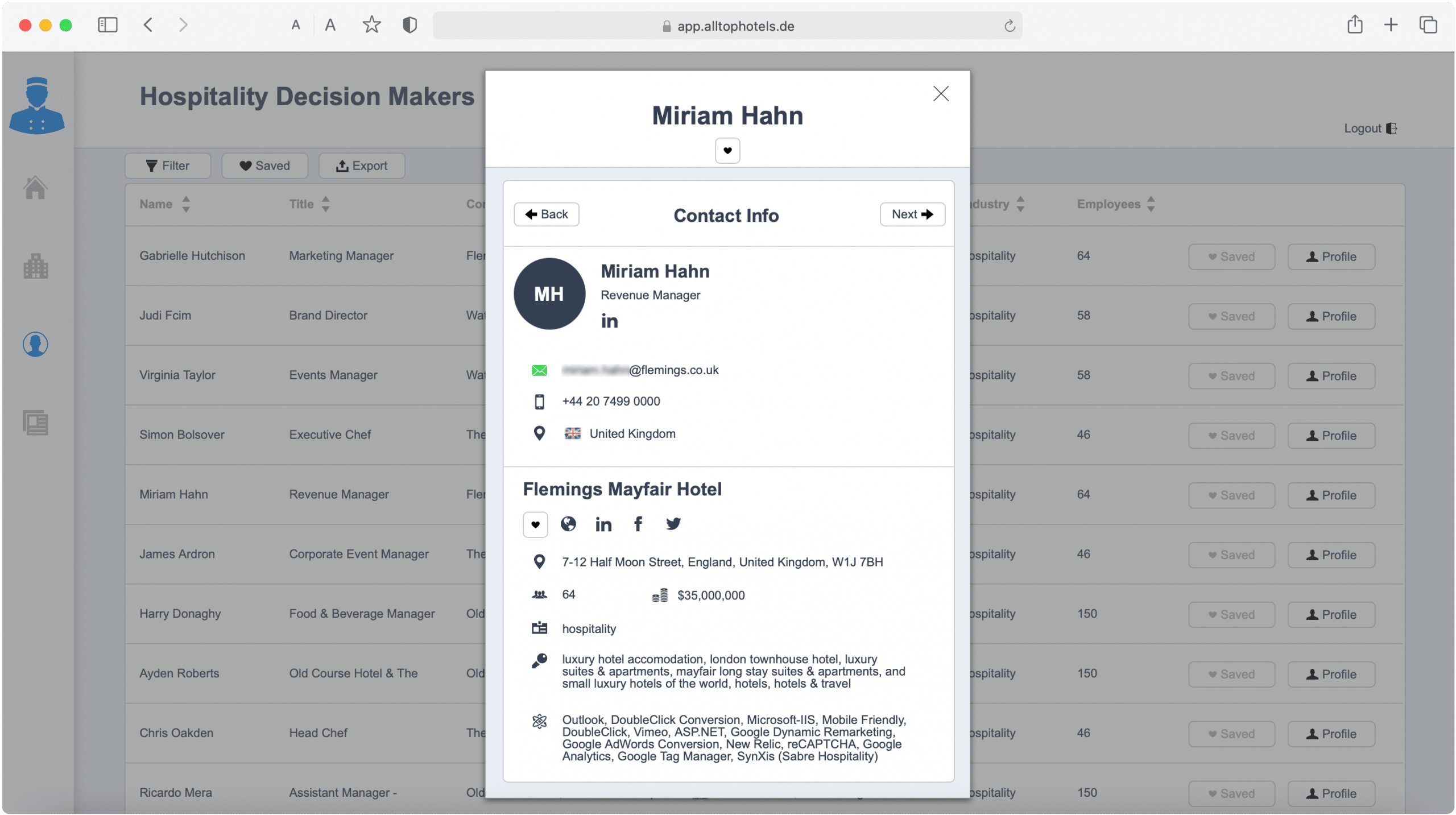 Delivering data is a profession we love
Whatever your target group in the hotels industry is, our data experts can select it for you. Contact us on +49 (0) 2921 5993684 or info@alltophotels.com. We are always here to answer your questions!