First German hotel technology report published
In order to give executives from the individual and chain hotel industry insights into the hotel tech market, the German Hotel Association IHA, HSMA Germany, Hotelhero and Techtalktravel have jointly published the first German hotel technology report on around 80 pages. The report reflects the opinions of executives in German hotel chains and presents case studies of innovative hotel groups.
It is undisputed that digitization will become more and more important in the future. Nevertheless, 80 percent of the hotel managers surveyed still complain about fundamental problems in implementation with regard to interfaces, budgets and data standardization. Otto Lindner, Chairman of the Hotel Association Germany (IHA) explains: "Even if the corona pandemic is currently overshadowing almost all areas of everyday hotel life, it is now important to set the right course for the future. A major challenge for the hotel industry lies in the integration of new technologies into the existing infrastructure and their flexible interchangeability. More than ever, hotels are required to adapt their business models, renew processes, make IT architectures more flexible and consistently expand digital communication channels. The need for action and support on the way to digitization is very different and individual for the hotel companies."
Pandemic as a catalyst for digitization, However, the budgets needed are still questionable
Florian Montag, Managing Director and co-founder of Hotelhero, explains: "You can tell that the topic of digitization has become more important in the industry due to the pandemic, but unfortunately there are still too many obstacles for hotels. Many hoped that the only positive thing out of the pandemic would be a digital boost through the industry, but this did not happen due to a lack of budgets and investment uncertainties. Montag emphasizes: "Hotels have to rely on an overall digital strategy and make sure that their system landscape is really deeply networked. The automation of processes and a technology landscape with flexibility will be more important than ever in the future."
Insufficient pace of innovation as a result of the lack of budgets
A lack of interfaces, budgets and data standardization make it difficult for most hotels to adopt the model of the networked plug & play platform, which is known from other industries, such as retail. "In view of the lack of innovation in industry-specific solutions, some hotel groups, such as H-Hotels.com or Maritim Hotels, are turning to cross-industry solutions in order to meet their needs and requirements. It is to be expected that this trend will become even more important in the future, "said those responsible.
Processes around the guest journey should be digitized
The report shows that the focus for hotels is on digitizing processes related to the guest journey and automating tasks related to the check-in / check-out process. Most executives see digital check-in as the most important trend in the industry right now. Of the 41 German hotel brands analyzed, almost 44 percent have a solution to digitize check-in either completely or partially. Fully automating this process is also much more difficult for existing properties than for new properties.
The report shows, among other things, that the focus for hotels is on digitizing processes related to the guest journey and automating tasks related to the check-in / check-out process. (Picture: Der Deutsche Hotel Technologie-Markt 2020/IHA/Hotelhero)
The human factor must not be ignored
"After the pandemic, however, the human component will also come to the fore again, because being able to automate a check-in / check-out, payment and accounting process does not mean that human interaction can be ignored. Rather, it means that manual tasks are automated. The technology will streamline processes and enable receptionists to act like real hosts, "said Martin Stegner, CIO Novum Hospitality.
"The report on the German hotel technology market and our IHA marketplace, on which association members can register free of charge in order to find the systems that best fit the respective system structure of the hotel, are two excellent tools to make it easy and to quickly get an overview of the latest technologies and their providers. We are very pleased to be able to bring more transparency and comparability for hoteliers into the tech jungle with Hotelhero at our side ", Otto Lindner said happily.
The report can be downloaded free of charge here
Source: https://www.tophotel.de/iha-hsma-deutschland-hotelhero-und-techtalktravelerster-deutscher-hotel-technologie-report-veroeffentlicht-76038/
What does that mean for your business?
It means that your chances to increase sales are bigger than ever before. With our data you will be able to reach out to the complete market of hotels in your region and identify hot leads of the hotel industry. All data you need for the approach is available and most importantly is its exactness and accuracy. Many filters and selections to adapt your needs and to easily filter your exact target group.
631,000 Hotels and 1,000,000 Hospitality Decision Makers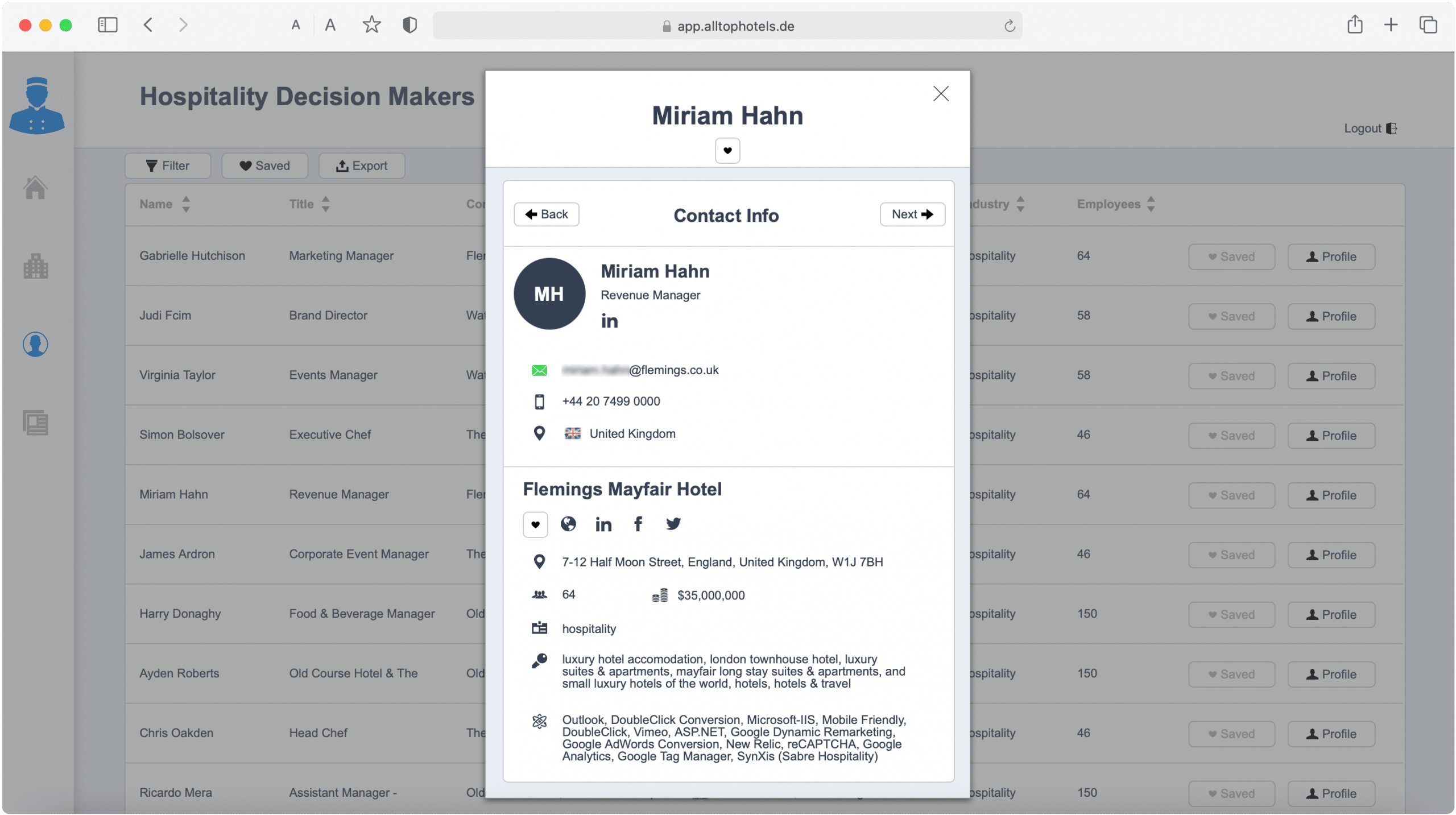 Delivering data is a profession we love
Whatever your target group in the hotels industry is, our data experts can select it for you. Contact us on +49 (0) 2921 5993684 or info@alltophotels.com. We are always here to answer your questions!