DoubleTree by Hilton Fujairah City Centre to Open Late 2022
Hilton and Al Taif Investment today announced the signing of a management agreement to open DoubleTree by Hilton Fujairah City Centre – a new build hotel located in the northern United Arab Emirates.
Located in the city centre, the hotel forms part of a mixed-use development known as Al Taif Business Centre which includes offices and residences. The hotel also has direct access to the Al Taif Business Centre mall.
"We conceptualized and designed Al Taif Business Centre as an inclusive facility, providing an iconic fusion of business and leisure facilities, and we are pleased to be working with Hilton to open this world-class hotel at our flagship project in Fujairah," said Khalid bin Kalban, CEO, Al Taif Investment. "With the emirate continuing to be an important logistics hub for the UAE, hosting several world-class medical facilities and developing a pipeline of infrastructure projects, it is an ideal venue to host many domestic and international tourists – and we are positive that this new addition will serve as a catalyst for the emerging needs of the emirate."
Expected to open in late 2022, DoubleTree by Hilton Fujairah City Centre will have 228 upscale guest rooms, world-class meeting and event spaces and a diverse selection of restaurants and bars. The hotel is also located in very close proximity to logistical and transport hubs such as Fujairah Port and Fujairah Terminals, sports stadiums and the Fujairah International Marine Club, as well as the city's key commercial and municipal offices.
"This hotel will provide all of those travelling to and living in the emirate with Hilton's world-class service standards and DoubleTree by Hilton's signature hospitality," said Carlos Khneisser, vice president, development, Middle East & Africa, Hilton. "We are grateful for the opportunity provided to us and delighted to support the vision of our partners at Al Taif Investment, as we strive to push the emirate of Fujairah into the next phase of its tourism and economic development and expand our growing network effect throughout the country."
Source: https://www.hotelnewsresource.com/article120448.html
Photos Source: DoubleTree by Hilton Fujairah City Centre to Open Late 2022, Hotel News Resource
What does that mean for your business?
It means that your chances to increase sales are bigger than ever before. With our data you will be able to reach out to the complete market of hotels in your region and identify hot leads of the hotel industry. All data you need for the approach is available and most importantly is its exactness and accuracy. Many filters and selections to adapt your needs and to easily filter your exact target group.
1,050,000 Hotels and 1,700,000 Hospitality Decision Makers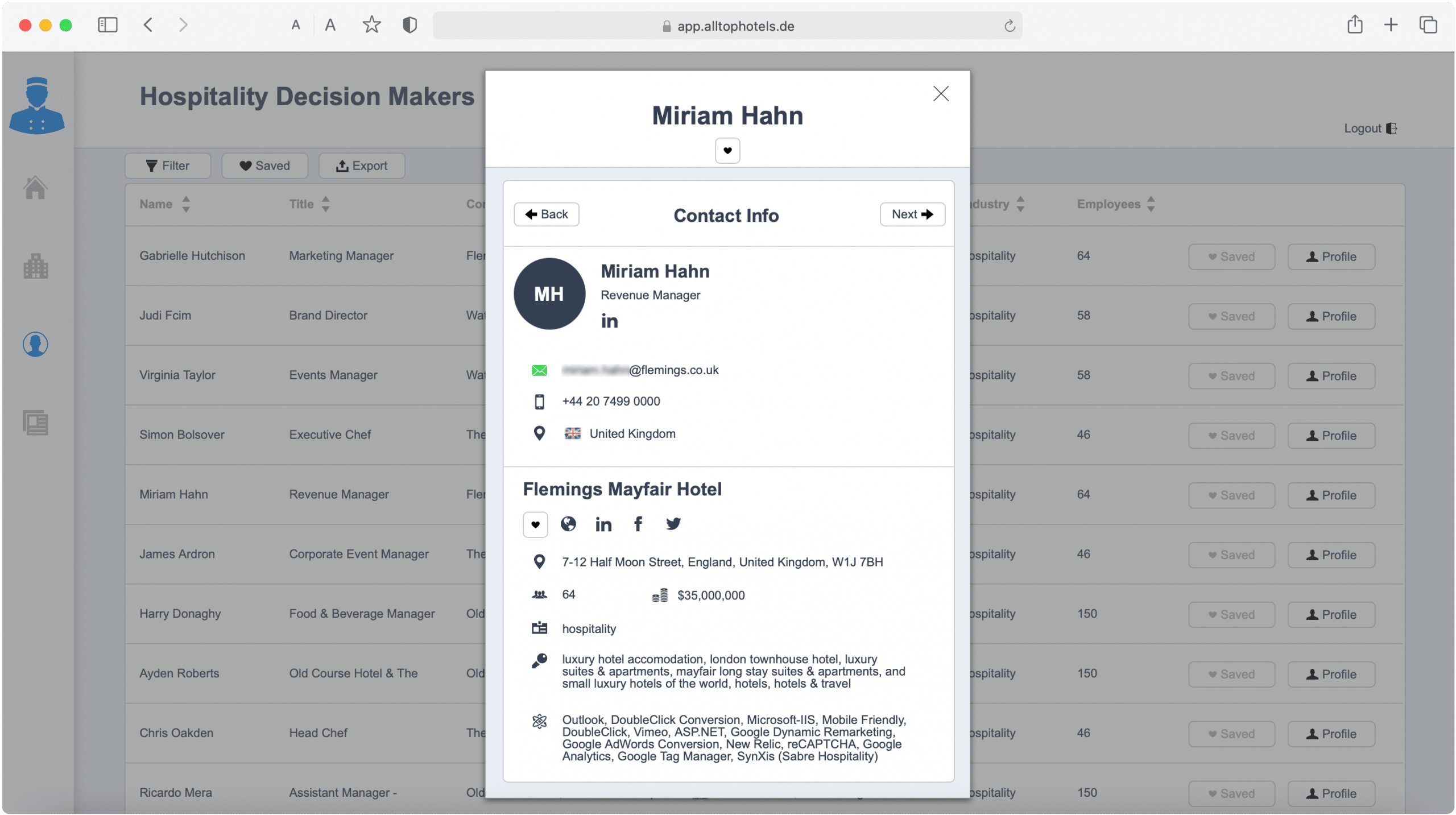 Delivering data is a profession we love
Whatever your target group in the hotels industry is, our data experts can select it for you. Contact us on +49 (0) 2921 5993684 or info@alltophotels.com. We are always here to answer your questions!