Accor: A New Mercure Hotel to Open in Alba Iulia, Romania in Q2 2024
Accor announced the new Mercure Alba Iulia Cetate Hotel. The new development will be the first hotel in Alba Iulia, affiliated to an international chain and will be operational in the second quarter of 2024. The hotel will work in the framework of a franchise contract with a local investor part of Dentotal Group, a valued partner of Accor which already opened two hotels with the group: Mercure Bucharest City Center in 2014 and ibis Styles Bucharest City Center in 2020.
Mercure Alba Iulia Cetate will offer travelers 112 generous rooms and suites on three floors plus attic, a dining restaurant of 282 sq m with external terrace, a 430 sq m banqueting area, a SPA, indoors and outdoors kids' playground and external and internal parking. The new hotel will be located on Dimitrie Cantemir Street, only 3 minutes away from The Citadel and within walking distance from the major touristic landmarks such as the Orthodox Cathedral of the Reunification, the Roman Catholic Cathedral, the National Unification Museum. Its unique positioning – in proximity of the city center, as well as the ring road – will support Mercure Alba Iulia Cetate in becoming an authentic urban retreat, a great destination for leisure travelers, as well as for corporate and private events.
Alba Iulia has very good accessibility by motorway: 353 km from Bucharest, 78 km from Cluj, 185 km from Timisoara, 53 km from Sibiu, 167 km from Oradea, 163 km from Brasov. The city is also in proximity of two international airports: Sibiu, 40 min away and Cluj-Napoca, 60 min away. From Budapest, Hungary, Alba Iulia can be reached by car on two routes, through Oradea or Timișoara.
"The announcement of the first hotel affiliated to an international network in Alba Iulia is a great proof of Accor's commitment to bring high standards and the latest innovations in hospitality to Romania's key tourism and business cities. Having a Mercure hotel on the map strengthens the attractiveness of the destination, because it reassures both local and international guests that they will be enjoying the same quality services they are accustomed to across the world." – says Maria Drăgulin, Accor Development Director for Romania, Bulgaria, Moldova and the Czech Republic.
"Alba Iulia is an amazing city, with an impressive history, matched by a vibrant contemporary lifestyle. We are excited to be part of the city's development and to contribute to its touristic offering, with a new international hotel. With this new collaboration, we are further strengthening our partnership with Accor Group, and reaffirming our trust in the Mercure brand, which we brought in Romania for the first time, in 2014." adds Bogdan Dogariu, representative of Dentotal Group.
Source: https://www.hotelnewsresource.com/article120987.html
Photos Source: Rendering of the Mercure Alba Iulia Cetate Hotel, Hotel News Resource
What does that mean for your business?
It means that your chances to increase sales are bigger than ever before. With our data you will be able to reach out to the complete market of hotels in your region and identify hot leads of the hotel industry. All data you need for the approach is available and most importantly is its exactness and accuracy. Many filters and selections to adapt your needs and to easily filter your exact target group.
1,050,000 Hotels and 1,700,000 Hospitality Decision Makers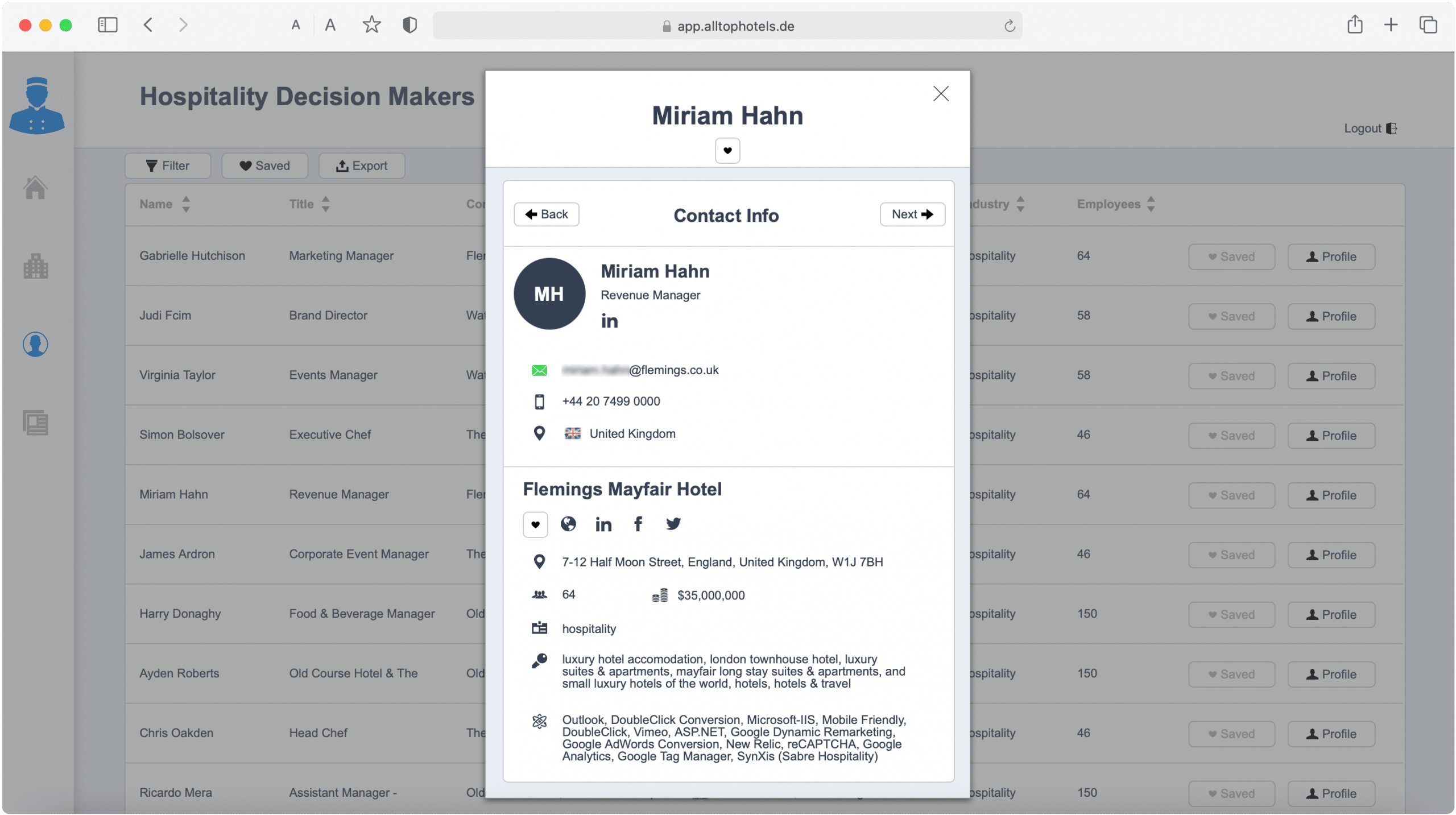 Delivering data is a profession we love
Whatever your target group in the hotels industry is, our data experts can select it for you. Contact us on +49 (0) 2921 5993684 or info@alltophotels.com. We are always here to answer your questions!