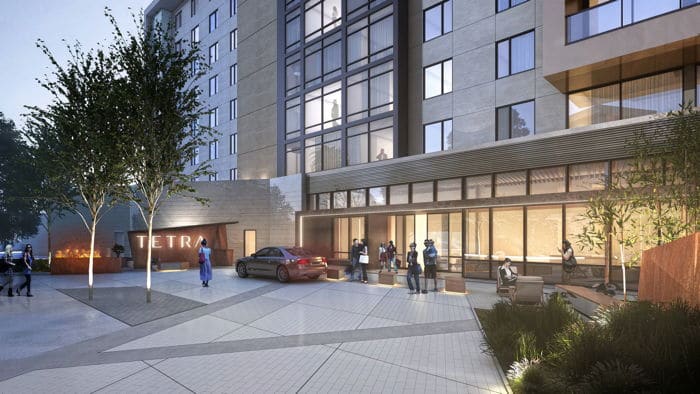 TETRA Hotel, an Autograph Collection Hotel Opens in Silicon Valley
The hotel, located at 400 West Java Dr., Sunnyvale, CA, is just minutes from the San Jose International Airport and other nearby attractions such as Levi's Stadium, Shoreline Amphitheater, the Santa Clara Convention Center, and more.
TETRA provides an elevated hotel experience, from the highest-quality bedding to the in-room coffee experience and other modern, luxury touches throughout the property. The new hotel features multiple dining and drinking outlets, including the signature restaurant, Adrestia, Japanese whisky bar Nokori, and Coffee Manufactory, in addition to numerous indoor and outdoor meeting and event spaces.
TETRA acts as an all-encompassing leisure hub in conjunction with its sister property, AC Hotel by Marriott Sunnyvale Moffett Park. Connecting the two properties is the Nexus, the social core of the hotels. The Nexus offers an indoor/outdoor communal and art space with dramatic sculptures created by artist David Franklin. Three distinct seating areas are available for guests to enjoy and will feature rotating pop-up activations, from wine tasting and a lending library to artist talks and more. A partnership with Content Magazine will bring fireside chats, podcast recordings, and more with leading South Bay voices.
"At TETRA Hotel, guests will experience a tranquil escape just minutes from the heart of Silicon Valley—a place to disconnect from routines and reconnect with what matters," said general manager Mike Lerman. "You'll take a deep breath of relief upon walking through the doors, and that feeling carries through as you enjoy the on-site amenities and the comfort of the hotel's natural and modern finishes. TETRA Hotel is poised to become a favorite destination for travelers of all kinds, a welcoming spot for South Bay locals to enjoy dinner or a drink, and a bustling venue for business meetings and unique programming."
TETRA features 186 guest rooms, including 14 suites across eight floors. The modern rooms will include luxury bathroom amenities from MiN NY, complemented by Dyson Supersonic hair dryers in every guest room, plus Bellino Fine Linen jersey knit hooded robes and custom jersey knit slippers. Guests can enjoy the rejuvenating outdoor, heated pool surrounded by olive trees and the state-of-the-art, fully-equipped fitness center featuring Peloton bikes. The hotel includes on-site parking with complimentary electric car charging stations and valet service.
Additionally, the hotel features 9,000 square feet of creative meeting and event space, ideal for professional and social gatherings. The three fully tech-equipped meeting rooms (2,044 square feet) offer innovative, flexible lounge spaces with mobile technology for in-person meetings and remote/video conferencing solutions.
Designed by renowned designer Gabellini Sheppard (Rainbow Room, Top of the Rock at Rockefeller Center, The Istanbul EDITION Hotel), TETRA's sleek design is approachable and high-touch; elevated, understated, and layered with natural materials and modern finishes, visually blending the indoors and outdoors. The sleek design features intentional touches of technology and organic elements to create an environment of refined tranquility and balance. The public areas showcase dark palettes and guests will be drawn to the wood slats throughout the ceiling and large communal live-edge wood table near the reception desk. Modern art installations can be found throughout the property, including custom Mica hanging sculptures over the bar by artist Christina Watka and a canopy tree piece by Sharon Levy.
The guest rooms embrace modernity and relaxed luxury, offering a retreat and place to unwind. The bathrooms are enclosed by a translucent glass box, which creates a radiant glow. The open and integrated floating closet, desk, and bench in the room provide functional needs and ease of spatial flow. The light palette contrasts with accents of color and textures from the leather headboards to nickel wood finishes. Additional special touches such as the artisanal metal, decorative shell tabletop finish, and rich vanity marble elevate the space and add another layer of richness.
The TETRA Hotel provides guests with multiple dining and drinking options, including the onsite restaurant, Adrestia, the new home of Executive Chef Hideki Myo, featuring modern dining and genuine service. Chef Myo, formerly of the Hyatt at Fisherman's Wharf, offers an eclectic California menu with Asian influences and a variety of Japanese ingredients and flavors. Adrestia will feature locally handmade ceramic servingware, steak knives by Pallares Solsona, a third-generation family maker based in Spain, and cotton linen napkins from Hawkins New York.
The hotel also offers two other drinking and dining options including, Nokori, the hotel's Japanese whisky bar, serving Japanese bar snacks including Pork Belly Kakuni Bao Buns, Shishito Peppers and Crispy Sesame Shrimp, and Coffee Manufactory, the hotel's cafe and retail experience, featuring its own premium coffee in addition to take away items from Chef Myo including grab-and-go salads and Japanese sandos (sandwiches made with milk bread). Nokori will offer a selection of premium whiskies, Japanese beers, sake, and an innovative Suntory Highball Machine that dispenses a perfectly-ratioed, highly chilled and carbonated, highball. Inside the café, a wood case will feature retail items such as Ito Bindery notebooks from Japan, and several of the items used in Adrestia, including the handmade knives and local and imported ceramics. The retail offerings will later expand to include pastries from famed local shop Tartine Bakery. Nokori will be open daily from 4:00pm-11:00pm. Coffee Manufactory will be open daily from 6:00am-6pm.
Sunnyvale, San Jose, and the surrounding area are home to numerous artisan shops, restaurants, cafes, farmers' markets, nightlife, sporting venues, and more.
Rates start at $249.00 midweek and $159.00 on weekends.
Source: https://www.hotelnewsresource.com/article120130.html
Photos Source: www.hotelnewsresource.com
What does that mean for your business?
It means that your chances to increase sales are bigger than ever before. With our data you will be able to reach out to the complete market of hotels in your region and identify hot leads of the hotel industry. All data you need for the approach is available and most importantly is its exactness and accuracy. Many filters and selections to adapt your needs and to easily filter your exact target group.
1,000,000 Hotels and 1,600,000 Hospitality Decision Makers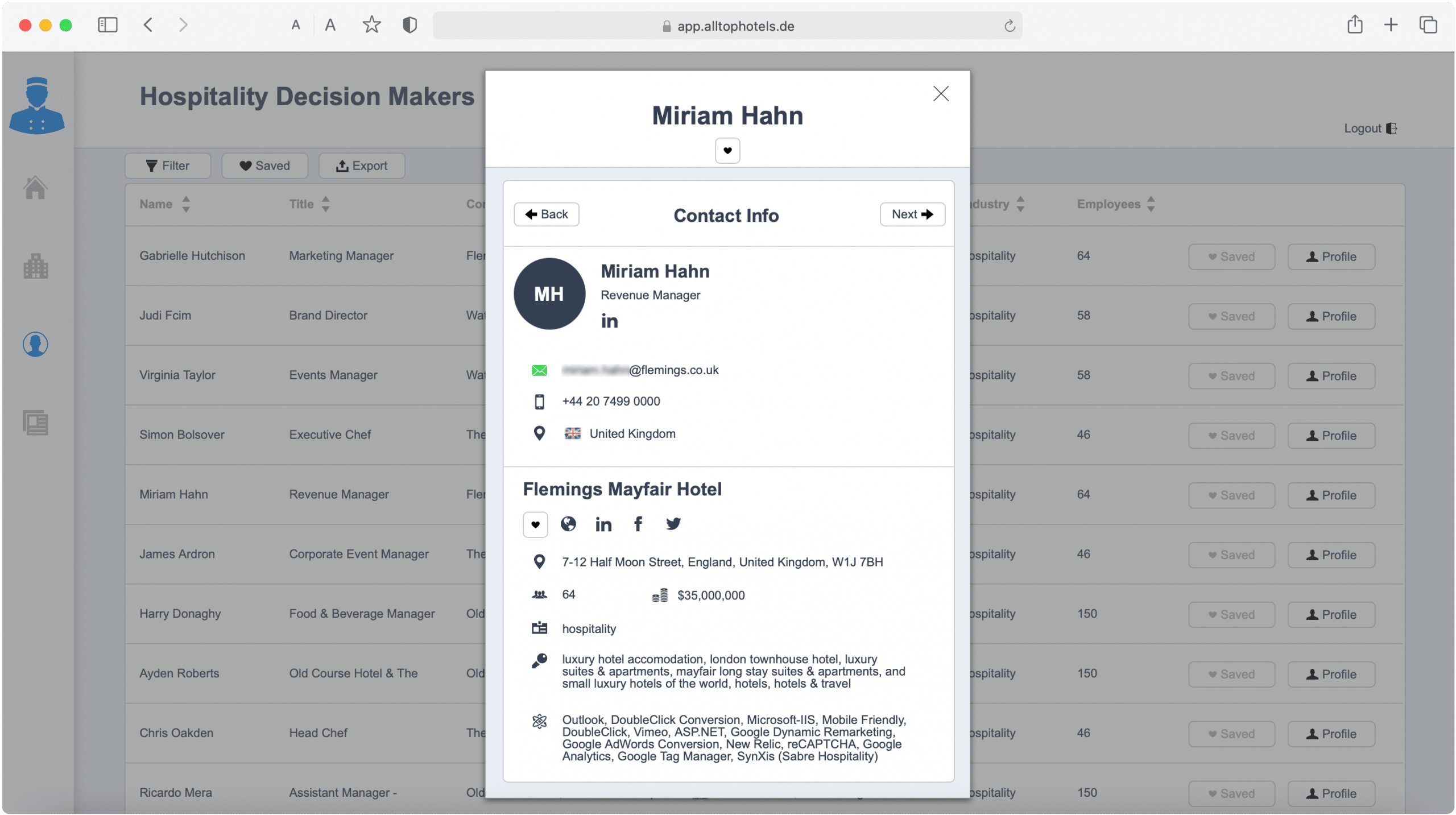 Delivering data is a profession we love
Whatever your target group in the hotels industry is, our data experts can select it for you. Contact us on +49 (0) 2921 5993684 or info@alltophotels.com. We are always here to answer your questions!