WTTC Research Predicts Travel & Tourism Could Grow to $8.6 Trillion in 2022
Major new research from the World Travel & Tourism Council (WTTC) has revealed the global Travel & Tourism sector's contribution to the global economy could reach $8.6 trillion this year, just 6.4% behind pre-pandemic levels.
In 2019, before the pandemic stopped travel in its tracks, the Travel & Tourism sector generated nearly $9.2 trillion to the global economy.
However, in 2020, the pandemic brought the sector to an almost complete standstill, causing a massive 49.1% drop, representing a severe loss of nearly $4.5 trillion.
Latest research from WTTC shows that as the world finally begins to recover from pandemic, the sector's contribution to both the global economy and employment could reach almost pre-pandemic levels this year.
Research by the global tourism body shows that if the vaccine and booster rollout continue at pace this year, and restrictions to international travel are eased around the world throughout the year – the sector could create 58 million jobs in 2022, to reach more than 330 million, just 1% below pre-pandemic levels and up 21.5% up on 2020.
Julia Simpson, WTTC President & CEO, said: "Over the past two years, the global Travel & Tourism sector has suffered tremendous losses.
"2022 is poised for a strong recovery if governments continue to open up and remove restrictions to travel. Our sector could recover more than 58 million jobs and generate $8.6 trillion which would boost economic recovery around the world.
"As people start travelling again, governments must implement simplified rules, including the use of digital solutions. Travel of the future should be contactless while guaranteeing safety. "
In 2019 Travel & Tourism generated 10.4% of global GDP and more than 330 million jobs. To reach close to pre-pandemic levels this year, WTTC says governments around the world must continue focussing on the vaccine and booster rollout – allowing fully vaccinated travellers to move freely without the need for testing.
The global tourism body also urges governments to ditch the patchwork of restrictions and enable international travel using digital solutions that allow travellers to prove their status in a fast, simple and secure way.
Source: https://www.hotelnewsresource.com/article119379.html
Photos Source: Travel contribution to global GDP could return to pre-pandemic levels this year, www.hotelnewsresource.com
What does that mean for your business?
It means that your chances to increase sales are bigger than ever before. With our data you will be able to reach out to the complete market of hotels in your region and identify hot leads of the hotel industry. All data you need for the approach is available and most importantly is its exactness and accuracy. Many filters and selections to adapt your needs and to easily filter your exact target group.
950,000 Hotels and 1,600,000 Hospitality Decision Makers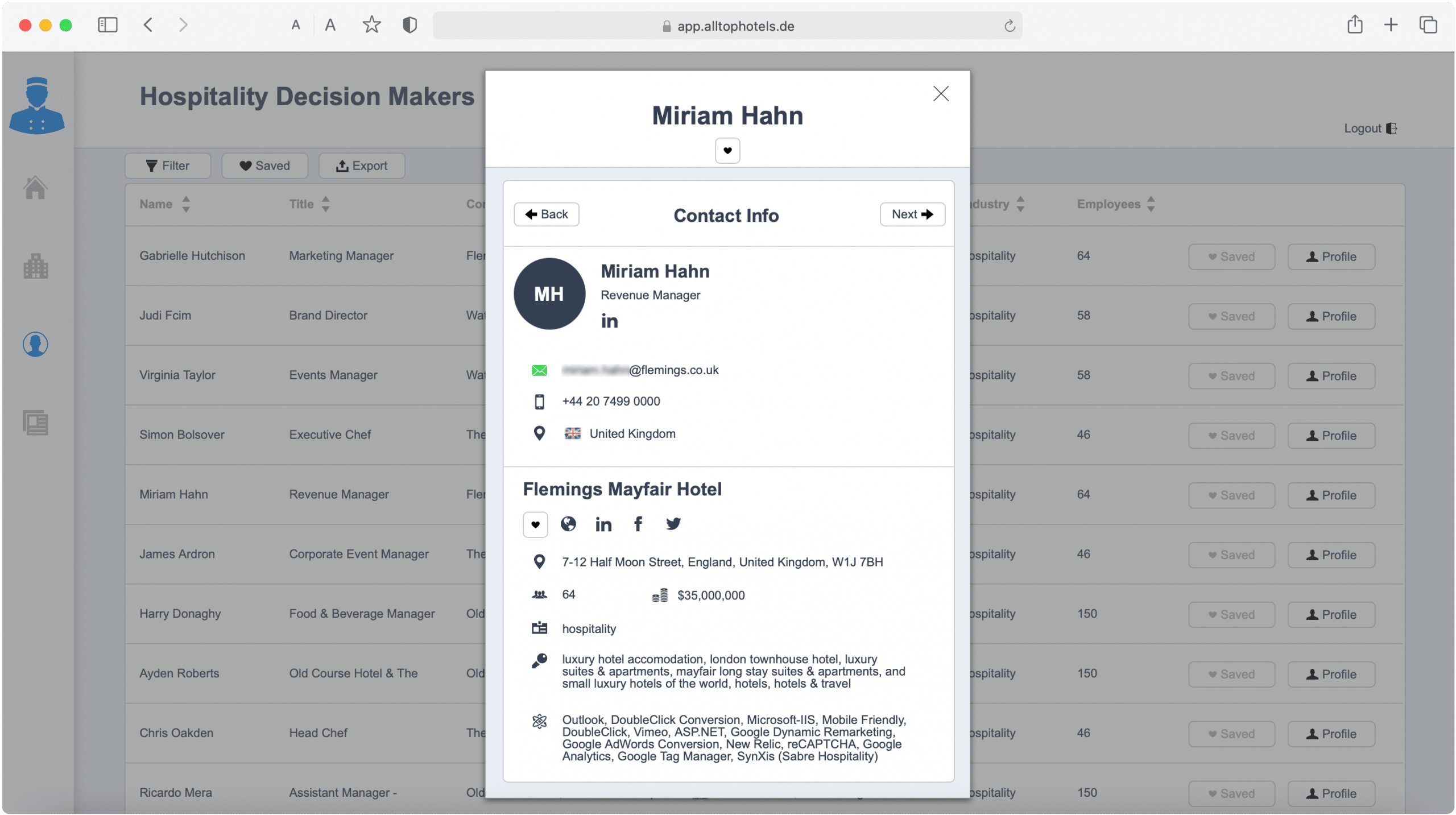 Delivering data is a profession we love
Whatever your target group in the hotels industry is, our data experts can select it for you. Contact us on +49 (0) 2921 5993684 or info@alltophotels.com. We are always here to answer your questions!