The Strand in Central London; Future Location of a Hub by Premier Inn
Whitbread PLC announced that it has acquired a prime freehold property on the Strand in central London, located just off Trafalgar Square. Subject to planning, 5 Strand will become the latest hub by Premier Inn hotel in the estate and is expected to open sometime during 2027. The purchase and development are being funded from the Group's existing cash resources and will also include one of the Group's popular Bar+Block steakhouse restaurants.
With a total investment of over £200m, including construction and related costs, this development reflects Whitbread's commitment to continue to invest in expanding its presence in the popular London market where a significant proportion of Premier Inn's future pipeline is located.
The purchase also underlines the Group's confidence in the hub by Premier Inn brand. The brand was first introduced in 2014 and now has a total of 2,431 open rooms which performed strongly in FY22 and continues to score highly with our guests. Hub by Premier Inn is designed for locations in major cities where property prices are relatively high but, thanks to its smaller room format, is still able to generate attractive long-term returns whilst providing affordable rooms for guests.
Alison Brittain, CEO, commented: "I'm delighted that we've been able to acquire this iconic location, which is set to become our latest hub by Premier Inn hotel. It is in a prime position and is perfect for the hub brand which is continuing to perform well. The purchase reinforces our confidence in the long term potential of the London market, the hub by Premier Inn brand and the growth prospects of our UK business."
Source: https://www.hotelnewsresource.com/article122359.html
Photos Source: Whitbread Premier Inn hotel UK, Hotel News Resource
What does that mean for your business?
It means that your chances to increase sales are bigger than ever before. With our data you will be able to reach out to the complete market of hotels in your region and identify hot leads of the hotel industry. All data you need for the approach is available and most importantly is its exactness and accuracy. Many filters and selections to adapt your needs and to easily filter your exact target group.
1,050,000 Hotels and 1,700,000 Hospitality Decision Makers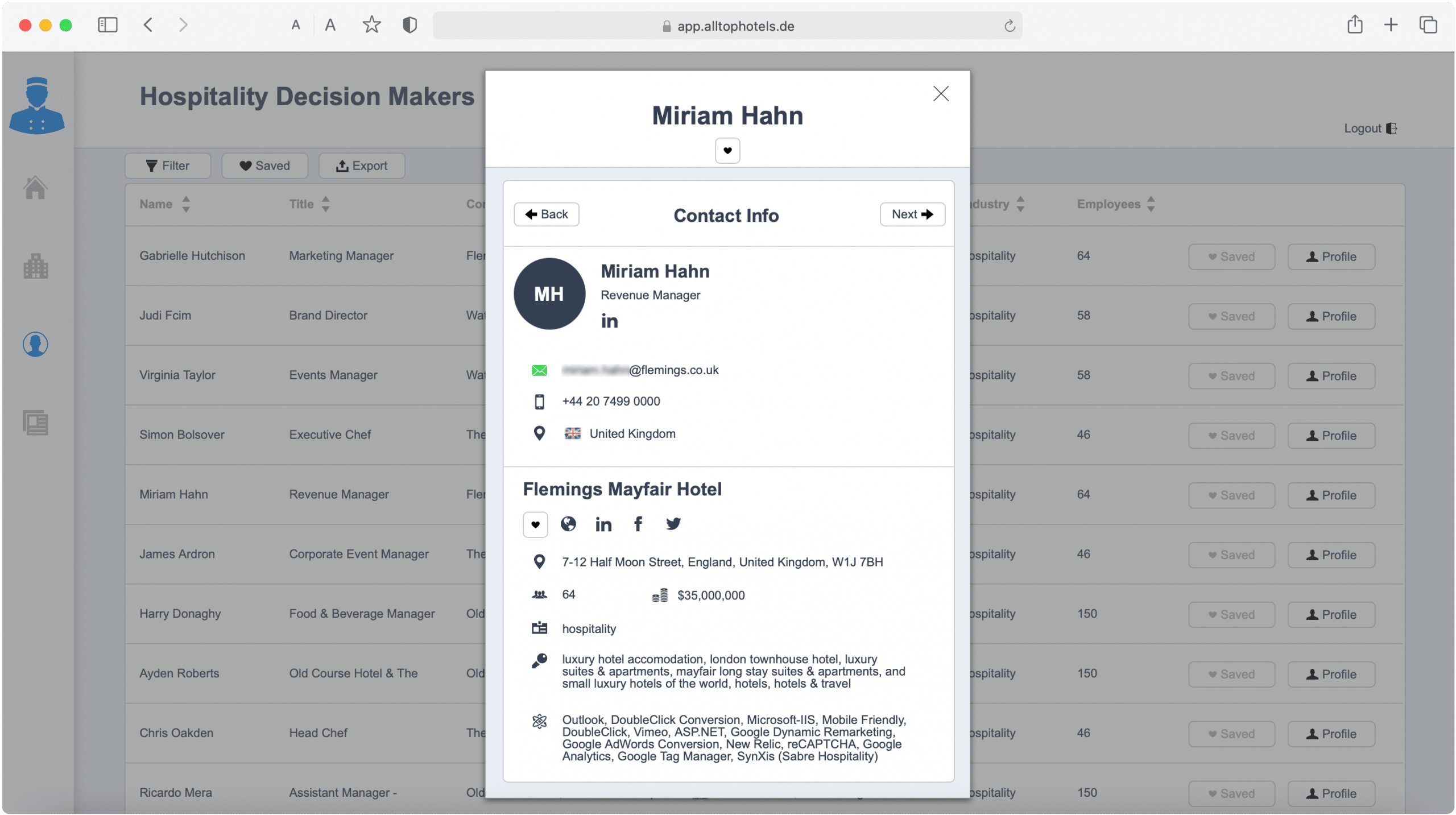 Delivering data is a profession we love
Whatever your target group in the hotels industry is, our data experts can select it for you. Contact us on +49 (0) 2921 5993684 or info@alltophotels.com. We are always here to answer your questions!