The Hoxton finds a home in Barcelona's creative Poblenou area
A rooftop pool and taqueria, bodega, pizza slice shop, basement event space and all-new four-bed rooms.
The Hoxton has opened its doors in Barcelona, in the creative neighbourhood of Poblenou, marking something new for the city as a multi-functional destination for locals and guests. Located in walking distance of the beach and set to be a pillar of the community, The Hoxton offers 240 rooms; a striking rooftop with a pool, cabanas and views over Sagrada Familia; Tope, a rooftop bar and taqueria; and Four Corners, a ground-floor pizza restaurant that stretches across a light and airy restaurant, sun terrace, slice shop and bodega — a one-stop shop for the best Spanish snacks, wines and craft beers. The hotel's large and bright lobby is full of cosy corners and houses Best Of, The Hoxton's retail collection which features exclusively local and sustainable brands. To the right of the lobby, three meeting and events spaces make up The Apartment, along with La Cave, a basement space that will host local cultural programming and community events.
Lobby
At the heart of the hotel, the bright and airy lobby is a welcoming space, centred around a curved all-day bar serving coffee and drinks. On entering the hotel, guests are wowed by the colourful hand-painted mural on the bar front, by local artist, Maria Marvila. Floor-to-ceiling windows feature on both sides of the lobby, embracing the Mediterranean sunshine. The space is framed by lofty arches, peachy plastered walls, and bold abstract artworks curated by John Brown Projects. A contemporary mix of tactile fabrics and patterns on upholstered seating is used alongside abundant planting, rattans and stones, to create a space that feels intimate, relaxed and welcoming.
Rooms
The hotel's 240 bedrooms have been designed to reflect their location. Embracing the sun and sea of Barcelona, rooms feel Mediterranean with terracotta floors, faded florals, natural jute rugs and serene colour palettes. Handcrafted tapestries hang above statement headboards and floor-to-ceiling windows flood the rooms with light. Rooms are generously sized, ranging from Roomy to an all-new 'Homey' category which will appeal to families and longer staying guests with kitchenettes, dining areas, and the option of two double beds in separate closable rooms for privacy. Bathrooms feel fresh and bright, with Zellige tiles, terracotta floors, walk-in rainfall showers, and Blank amenities. A handful of Biggy and Homey rooms feature bathtubs — perfect for relaxing after a day exploring the city.
The Hoxton commissioned local Catalan artist, Jose Antonio Roda to illustrate room keys and collateral; artwork in the rooms is curated by Barcelona-based John Brown Projects; bookshelves are curated by Hox Friends; and all rooms feature neighbourhood guides with tried-and-tested local recommendations from the team.
Tope
Up on the roof with knock-out views of Sagrada Familia, Tope is a fun and informal Mexican taqueria with a rotating menu of tacos, fresh Mexican-inspired dishes, frozen margaritas, giant slushies, and DJs amping up the vibes at the weekends. A sister to Tope Portland which opened atop The Hoxton Portland in 2018, Tope Poblenou offers 360- degree views of the city, which can be enjoyed with relaxed seating, or soaked up poolside on a sun lounger or in a comfy cabana. With room for up to 100 standing, Tope vows to be a lively weekend spot with DJs hitting the decks on Fridays and Saturdays, making it a must-go destination to catch the sunset. The rooftop space will also be used to host leisurely yoga sessions for guests and locals, and community events as part of The Hoxton's cultural programming.
Tope offers a neat list of classic tacos features slow-cooked meats, charred vegetables and flavourful sauces. Menu highlights include: sea bass aguachile, a typical dish from the western coast of Mexico; homemade guacamole; quesadilla with cheese, cactus, corn and jalapeno; and pulled pork carnitas with pico de gallo and habanero. Tope's regularly changing menu embraces seasonality and local produce. As for drinks, tequila and mezcal are whipped up into frozen margaritas, Miami Vice slushies, and colourful pitchers, national and Mexican beers, as well as a selection of wines from local Spanish vineyards.
Whilst the striking backdrop of the city is the star of the show up here, Tope's decor plays off the Mexican cuisine with colourful geometric-tiled tabletops, lush greenery, cacti, handmade terracotta pendants hanging over the bar, striped sun loungers, and a wow-factor chequerboard terrazzo pool.
Four Corners
On the ground floor of the hotel, Four Corners is a pizza restaurant, sun terrace, slice shop and bodega. Fresh out of London where it ran as a four-month pop-up and was met with rave reviews, Four Corners specialises in deep-dish Detroit-style pizza served in square pies or giant slices. Overseen by New York-based pizzaiolo, Anthony Falco, Four Corners' thick and chunky bases are light and baked fresh. Toppings including: Mortadella and pistachio pesto; Soppressata with spicy honey, cheesy carbonara; and the classic red top. The all-day menu also includes small plates designed to share including mozzarella sticks, Italian charcuterie, aubergine parmigiana and to finish, a too-good-to-miss tiramisu. The menu is accompanied by a selection of natural wines from small-scale European wineries and craft beers from local brewery, Garage Beer.
For early risers, Four Corners serves breakfast until 11:30 am, with a selection of freshly baked homemade pastries from Barcelona's much-loved spot, Funky Bakers; sweet tiramisu-filled bombolini; sourdough toast with ricotta, pear and honey; and the 'BEC': a stand-out bacon, egg and cheese brioche. With Poblenou celebrated for its craft coffee scene, Four Corners hits the mark with specialty coffee from the nearby Three Marks Coffee.
The pared-back space is full of natural light with cascading greenery, large paper shade lanterns and bold blue tiles. A colourful hand-painted mural by artist, Caroline Denervaud, frames the open-kitchen and wrap-around bar, with its corrugated concrete front and red leather bar stools.
Between the lobby and the restaurant, Four Corners' Slice Shop is a quick, grab-and-go option, where guests can swing by to pick up a slice for the road or sit in at its relaxed high-top seating. Guests are encouraged to visit the bodega, where they'll find a curated selection of Barcelona's snacks, beers and low-intervention wines, including Torres crisps, Garage Brewery beers, Ortiz tinned seafood, and bespoke vermouth from Morro Fi, bottled exclusively for Four
Corners. The bodega has been designed as a contemporary take on the traditional Spanish bodega. Branding, products and an experiential approach lay at the heart of the design, with shelves stretching up to the double-height ceiling, with deliberately kitsch and industrial finishes.
The Apartment and La Cave
The Apartment, The Hoxton's meeting and events space, is comprised of three rooms, centred around a communal pantry kitchen. Located on the ground floor, the differently-sized rooms make the most of the natural light and feature white-washed timber floors, bespoke joinery and a continuation of the hotel's dynamic artwork collection. Moving walls and concealed TVs mean the rooms transition seamlessly to accommodate all kinds of occasions, from small meetings to large standing receptions. The pantry kitchen is the heart of The Apartment, with a terrazzo-topped bar, checkerboard concrete floor and statement handmade tapestry. New and unique for The Hoxton's Barcelona property, La Cave is a multifunctional basement space and extension of The Apartment. The space fits up to 300 standing, accommodating large-scale events and parties. Unlike any event space of its kind, La Cave feels welcoming and warm, just as you'd expect from a Hoxton. Here, guests will find a sprawling statement art piece from local artist, Sandra Modrego.
Best Of
Supporting The Hoxton's commitment to its neighbourhood, Best Of is a retail collection featuring a range of limited edition products created in collaboration with some of the city's best artisans, makers and brands, available to purchase here in the hotel. The collection, which champions brands with sustainable practices, includes printed shirts, t-shirts and swimmers by Brava Fabrics, sunglasses from local Poblenou-based Etnia, organic cosmetics from Rowse, chocolate from ethical bean-to bear makers, LOT Roasters, and prints and figurines from Jose Antonio Roda. Cult and colourful Four Corners merch including caps and printed t-shirts are also available to buy from the bodega. The Hoxton also collaborated with Brava Fabrics for its team uniforms.
Good Neighbours
The Hoxton is proud to support Fundació Arrels as its local charity partner in Barcelona, through donations and fundraising initiatives. Fundació Arrels work tirelessly to support the homeless, helping with job opportunities, housing and long-term solutions. Good Neighbours is The Hoxton's global community outreach initiative, which supports those in need through fundraising and volunteering.
The neighbourhood: El Poblenou
For its first hotel in Spain, The Hoxton chose El Poblenou for its creative scene and local spirit, and the draw of being in walking distance of the sights and the sea. El Poblenou, which translates in Catalan to 'little village', was established as a thriving district during the industrial revolution, when textile mills and factories were built here and the neighbourhood was forever woven into the history of the city. In recent years, 22@ District urban regeneration project has seen the old factories and mills converted into artist studios, design showrooms, craft breweries, restaurants and art schools, breathing fresh life into the neighbourhood and establishing it as one of the most cultural districts of the city. Stroll down Rambla del Poblenou and join the neighbours for a coffee — or better yet, a vermouth. El Poblenou hums with energy, with young start-ups ready to take on the world, and design studios drawing inspiration from these very streets. There's also the Can Framis modern art museum, Glòries shopping centre, and the world-famous Razzmatazz for some late-night grooves.
The Hoxton's evolution
Always more than just a bed for the night, The Hoxton is one of the forerunners in the lifestyle hospitality space, making a significant mark on the neighbourhoods in which it lands, and always challenging the status quo. Poblenou comes as the 11th hotel for the brand, which has gone from strength to strength in recent years, having rooted itself into some of the most exciting and interesting neighbourhoods across Europe and North America. Locations currently include London (Shoreditch, Holborn and Southwark), Paris, Amsterdam, Rome, New York, Portland, Chicago and Downtown LA. Each hotel is designed and curated with its neighbourhood front of mind, enhancing experience through brand and retail partnerships unique to that destination, hand-picked vintage furniture from local sellers, galleries showcasing independent artists, community-focused social events, and charity-supporting Good Neighbours initiatives.
The Hoxton, Poblenou
Avinguda Diagonal, 205
Barcelona, 08018
Spain
+34 932 71 72 22
Source: https://www.hospitalitynet.org/announcement/41007909.html
Photos Source: The Hoxton, Poblenou — Photo by Ennismore, Hospitality Net
What does that mean for your business?
It means that your chances to increase sales are bigger than ever before. With our data you will be able to reach out to the complete market of hotels in your region and identify hot leads of the hotel industry. All data you need for the approach is available and most importantly is its exactness and accuracy. Many filters and selections to adapt your needs and to easily filter your exact target group.
1,050,000 Hotels and 1,700,000 Hospitality Decision Makers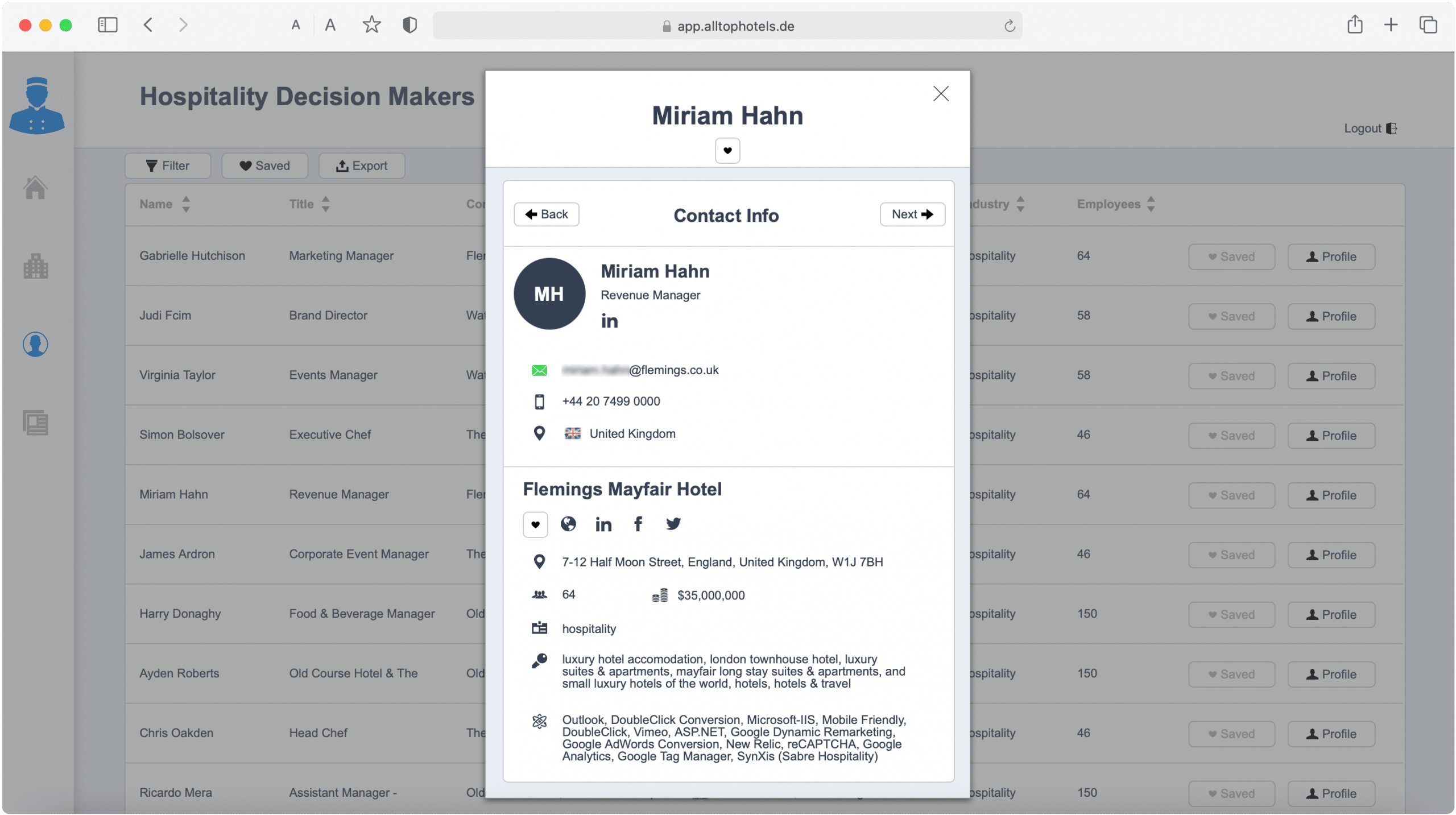 Delivering data is a profession we love
Whatever your target group in the hotels industry is, our data experts can select it for you. Contact us on +49 (0) 2921 5993684 or info@alltophotels.com. We are always here to answer your questions!