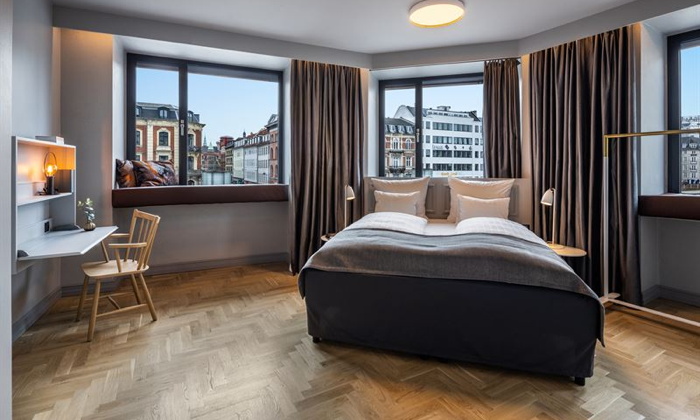 Scandic Nørreport Hotel Opens in Copenhagen
Scandic has opened Scandic Nørreport, a boutique hotel located in central Copenhagen, featuring 100 rooms and a rooftop bar overlooking the city. Scandic Nørreport will also be the first Danish hotel to be certified according to the Nordic Swan Ecolabel's new, stricter requirements.
Located next to Nørreport Station and Kongens Have, Scandic Nørreport is Scandic's ninth hotel in downtown Copenhagen and 29th hotel in Denmark. The hotel has been designed with a focus on providing an ultra-comfortable stay in the heart of the city and features a rooftop bar with spectacular views. The concept behind the hotel's interior design aims to create a warm, harmonious atmosphere using soothing Nordic tones together with Danish design.
– Scandic Nørreport doesn't just mark the opening of a new boutique hotel with a great location and fantastic rooftop bar, it also marks the beginning of a busy summer during which we're looking forward to welcoming Nordic travelers back to Copenhagen again. The size and design of the hotel suit this part of the city and will strengthen our position in the hotel market in Copenhagen as we offer guests a new and slightly different type of Scandic hotel experience compared with our existing portfolio in the capital, says Søren Faerber, Head of Scandic Hotels Denmark.
Level Six, the hotel's rooftop bar and terrace, is located on the sixth floor, high above the urban bustle, offering magnificent views of Nørreport Station and Kongens Have. Level Six's concept is based on high-quality ingredients and craft cocktails thanks to a collaboration with a number of small Danish distilleries. Guests will also be able to enjoy a variety of lighter meals made using organic and local ingredients.
– It feels great to bring a new Scandic hotel to Copenhagen. Together with my entire team, I'm looking forward to welcoming guests to a hotel with a distinct international yet local atmosphere where they can enjoy spectacular views from the rooftop bar and end the day with a great night's sleep in one of our 100 rooms, says Mads Brockmann-Petersen, General Manager at Scandic Nørreport.
Scandic is the only hotel company in Denmark whose hotels are ecolabeled by the Nordic Swan Ecolabel, and Scandic Nørreport will be the first Danish hotel to be certified according to Nordic Swan Ecolabel's new, tougher requirements that include a special focus on climate impact. In practice, this means that Scandic Nørreport will focus on reducing energy consumption and CO2 emissions, increase the use of ecolabeled cleaning products and serve more environmentally food while reducing food waste.
– Meeting the Nordic Swan Ecolabel's new requirements shows just how ambitious Scandic is in taking responsibility for protecting the environment and addressing climate change. Scandic has focused on sustainability for many years and the Nordic Swan Ecolabel is one of the most important tools in this process. I hope that other hotels will be inspired by Scandic and follow suit, says Martin Fabiansen, Director of Ecolabelling Denmark.
With the opening of Scandic Nørreport, Scandic now operates 13 hotels in Greater Copenhagen with a total of 3,154 rooms.
Facts about Scandic Nørreport
6 floors, rooftop terrace

Hotel space: ca 3,700 m2

Rooms: 100

Accessible rooms: 5

Allergy-friendly rooms: 5

Restaurant & bar seating: 80 inside, 110 outside

Architect (building): PLH Arkitekter

Property owner: ATP

Construction year: 2020–2022

Environmental certification: Nordic Swan Ecolabel
Source: https://www.hotelnewsresource.com/article121102.html
Photos Source: Guestroom at the Scandic Norreport Hotel, Hotel News Resource
What does that mean for your business?
It means that your chances to increase sales are bigger than ever before. With our data you will be able to reach out to the complete market of hotels in your region and identify hot leads of the hotel industry. All data you need for the approach is available and most importantly is its exactness and accuracy. Many filters and selections to adapt your needs and to easily filter your exact target group.
1,050,000 Hotels and 1,700,000 Hospitality Decision Makers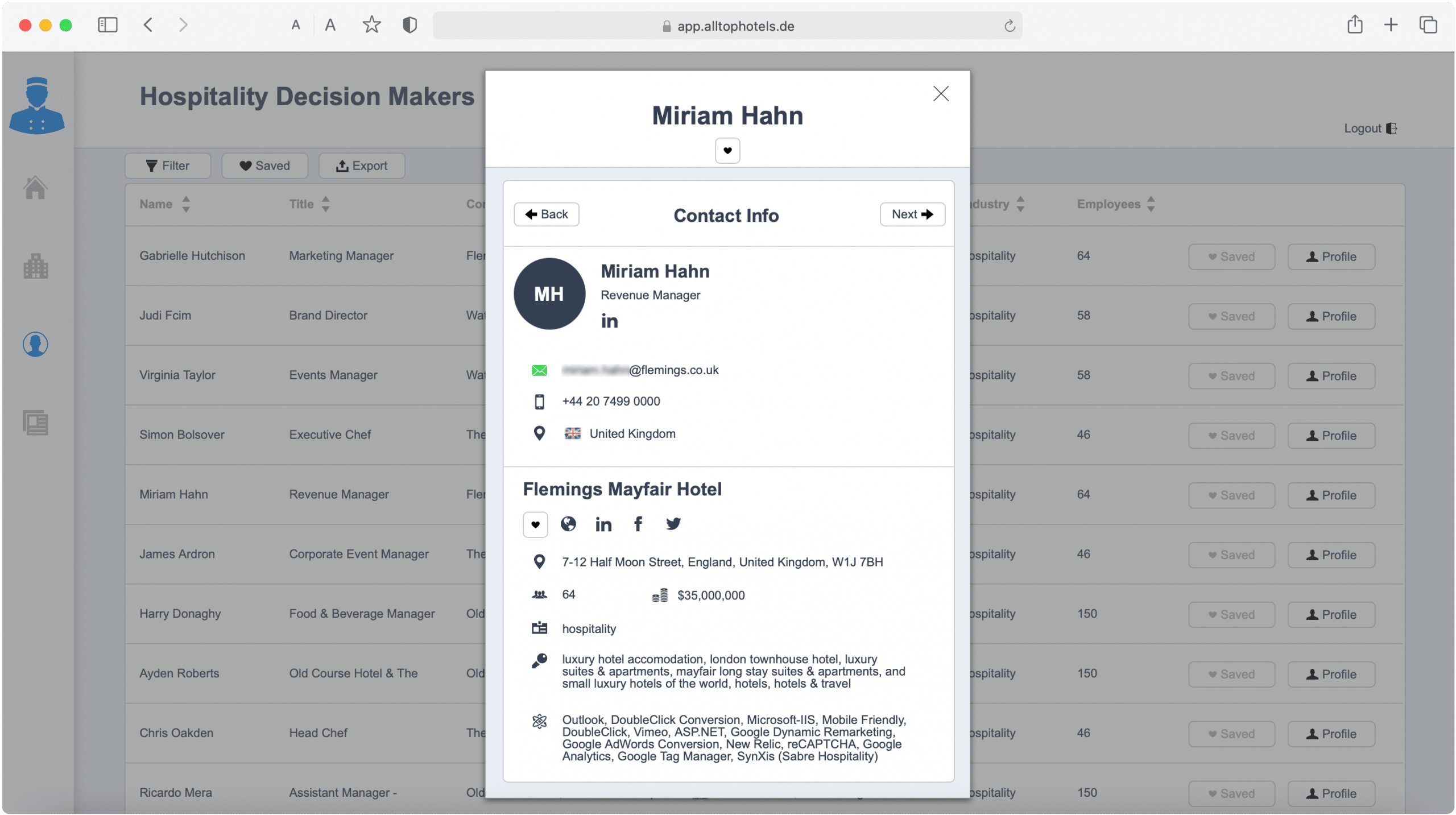 Delivering data is a profession we love
Whatever your target group in the hotels industry is, our data experts can select it for you. Contact us on +49 (0) 2921 5993684 or info@alltophotels.com. We are always here to answer your questions!