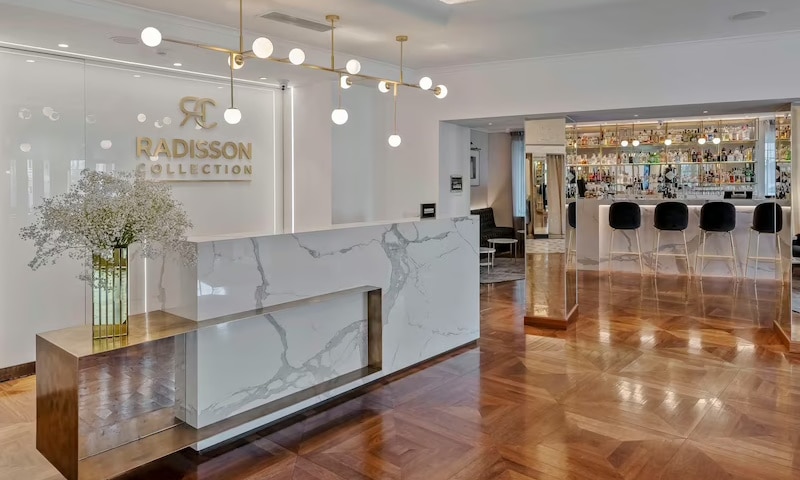 Radisson Collection Astorija Hotel Vilnius Opens in Lithuania
Radisson Hotel Group announced the introduction of its first Radisson Collection hotel to Vilnius, Lithuania – one of the largest surviving medieval towns in Northern Europe, with the re-opening of the property previously known as Radisson Blu Royal Astorija Hotel, Vilnius, after an extensive renovation. Situated in Vilnius' UNESCO World Heritage Site Old Town, this luxury lifestyle hotel offers an exceptional hotel experience in the Lithuanian capital as Vilnius celebrates its 700th anniversary in 2023.
Surrounded by centuries of history and exceptional medieval, Renaissance, and Baroque architecture, Radisson Collection Astorija Hotel, Vilnius dates back to 1901, and has hosted numerous dignitaries, royal families, celebrities, and heads of state, including US President, George W. Bush. The hotel building features stunning Secession and Neo-Baroque style architecture and embodies everything that the Radisson Collection brand represents – a unique, authentic experience that celebrates culture, heritage, and contemporary living.
The hotel offers 119 rooms, ranging from guest rooms to suites up to 89 m². All rooms boast captivating views of the surrounding church towers as well as authentic frescoes, and feature custom-designed wallpaper inspired by original tapestries from the Grand Duke Palace. The hotel offers a unique blend of modern design, old Vilnius charm, and art style which gives a glimpse into the life of the Lithuanian aristocracy at the turn of the 20th century.
"We are delighted to launch Lithuania's first Radisson Collection property with the rebranding of this landmark hotel. Guests can now enjoy four of our distinctive brands in Lithuania, presenting them with a range of hotel options for every trip and occasion. We look forward to guests enjoying this beloved and beautiful hotel and creating many more memorable moments in the years to come", says Tom Flanagan Karttunen, Area Senior Vice President for Radisson Hotel Group in Western & Northern Europe.
Radisson Collection Astorija Hotel, Vilnius includes a restaurant, a bar, and a seasonal rooftop lounge. Featuring an elegant design and large veranda windows for spectacular views of Vilnius Old Town, Astorija Brasserie is the ideal spot to dine and enjoy delicious French cuisine. The Astorija Gin Bar is known as the perfect place in Vilnius for gin aficionados as it offers a carefully curated selection of gins from all over the world. The seasonal rooftop bar is a buzzing and refreshing hotspot to take in the sunset over the city.
The hotel's original Wine Cellar was rediscovered in 2019, and this storied space, with its arched ceilings and stone and brick walls, was restored to its former grandeur with an acclaimed wine list boasting biodynamic wines and world-renowned champagnes. For a unique experience, the Wine Cellar is available for private wine and food tastings.
"We proudly start our new journey as a Radisson Collection hotel in the UNESCO heritage old town of Vilnius, one of Europe's most storied cities, filled with history, nature, and romance. Our team of passionate hoteliers is looking forward to introducing guests to the city's exceptional experiences," says Vilija Radzvilaviciene, the General Manager of the hotel.
Radisson Collection Astorija Hotel, Vilnius also offers five flexible meeting spaces that accommodate up to 250 attendees. Each space has high-end audiovisual equipment, free Wi-Fi, and air conditioning. The hotel also offers a selection of catering packages and an expert events team to ensure every that event is memorable. The hotel features a fitness and wellness center, perfect for those looking to unwind after a busy day of exploring the city or in between meetings.
Source: https://www.hotelnewsresource.com/article125657.html
Photos Source: Radisson Collection Astorija Hotel Vilnius Reception, Hotel News Resource
What does that mean for your business?
It means that your chances to increase sales are bigger than ever before. With our data you will be able to reach out to the complete market of hotels in your region and identify hot leads of the hotel industry. All data you need for the approach is available and most importantly is its exactness and accuracy. Many filters and selections to adapt your needs and to easily filter your exact target group.
1,250,000 Hotels and 2,000,000 Hospitality Decision Makers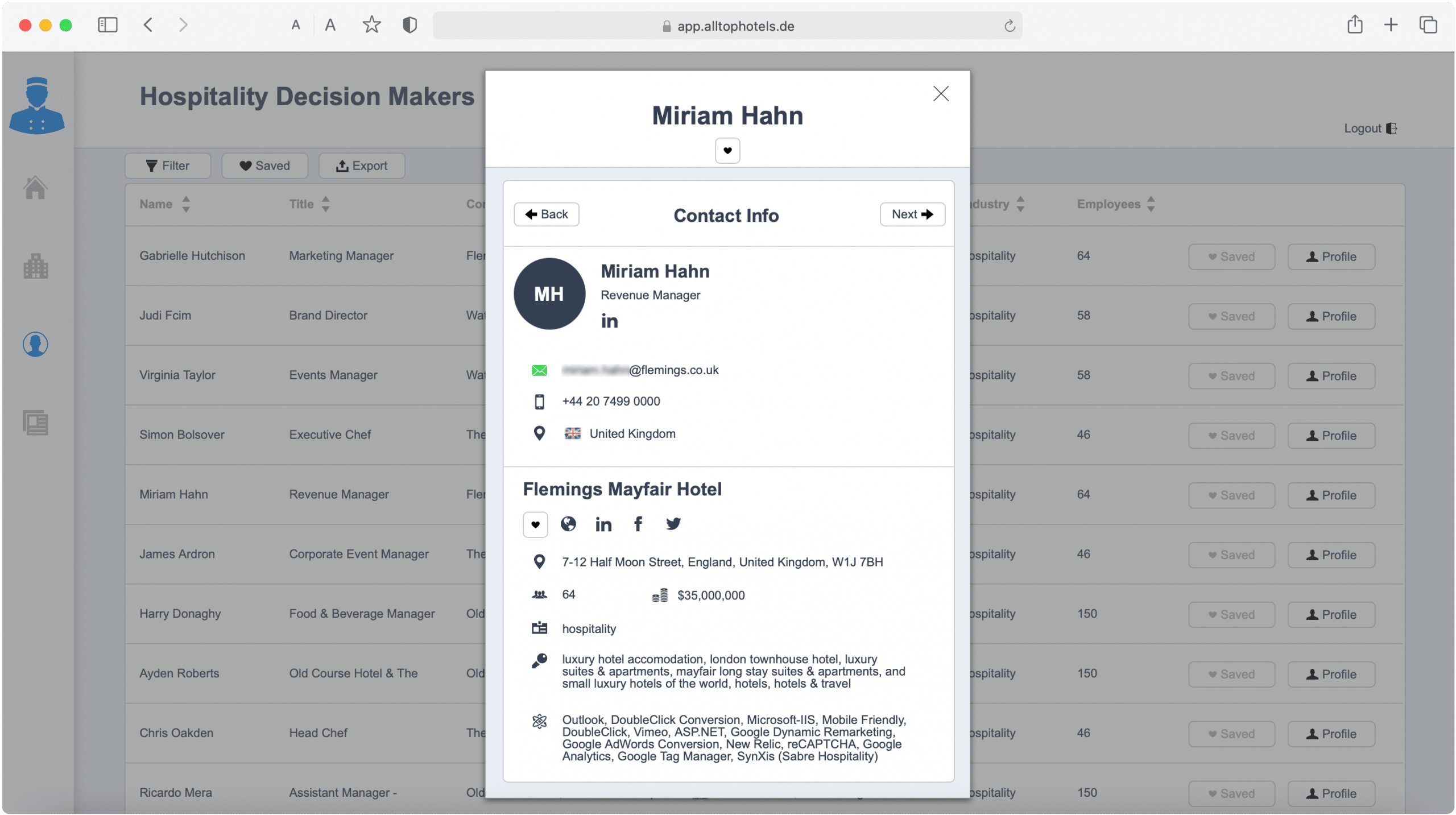 Delivering data is a profession we love
Whatever your target group in the hotels industry is, our data experts can select it for you. Contact us on +49 (0) 2921 5993684 or info@alltophotels.com. We are always here to answer your questions!