Miraval The Red Sea Goes Global
Miraval The Red Sea will guide guests on a wellness journey in the Middle East.
Hyatt Hotels Corporation (NYSE: H) announced today that a Hyatt affiliate has entered into a management agreement with The Red Sea Development Company for Miraval The Red Sea, a 180-room luxury wellness resort. Miraval The Red Sea will introduce the wellness brand's signature mindfulness-based wellness practices to a new corner of the world, empowering guests with tools and inspiration to find balance and support their emotional and mental wellbeing. Located on Saudi Arabia's Shura Island, the central hub of the highly anticipated new hospitality development, The Red Sea Project, the new Miraval resort will pave the way bringing transformative wellness experiences and the largest spa in the Red Sea destination. The high-end luxury wellness resort is slated to open as part of phase one of the Red Sea development. When it opens, this property is expected to be the Miraval brand's fourth resort and its first outside the U.S., joining Miraval Arizona, the brand's original location in Tucson, Ariz.; Miraval Austin, its second location in Austin, Texas; and its newest location, Miraval Berkshires in Lenox, Mass.
Miraval The Red Sea will offer guests 180 guestrooms and suites, including 20 villas, spread across the three million square foot (310,000 square meters) plot. Miraval The Red Sea will bring together imaginative, compassionate, and inspiring wellness experiences that will connect guests with local Miraval specialists and contemplative spaces that blend in harmony with the natural surroundings. Designed by the award-winning Foster+Partners, the resort's breathtaking design will draw inspiration from the unique Red Sea environment, creating simple and elegant spaces to promote moments of mindfulness, relaxation, and introspection.
The Life in Balance Spa, which is expected to be the largest within the Red Sea destination, will be the heart of the property encompassing nearly 40,000 square feet (3,700 square meters) and 39 treatment rooms. Miraval The Red Sea will be built to create a serene sanctuary that nurtures relaxation, balance, and a sense of wellbeing. In addition to offering a selection of Miraval's most coveted signature spa treatments and experiences, the Life in Balance Spa at Miraval The Red Sea will offer groundbreaking new treatments, destination-inspired experiences, and a series of innovative wellness programs that pay homage to the rich local culture and heritage of the Middle East. The resort plans to provide ample space for contemplation and exploration with dedicated areas such as a walking trail system, mangrove boardwalk, outdoor adventures, and several intentionally purposed rooms set up for art, creative expression, music, wellness lectures, and hands-on workshops led by Miraval specialists.
The luxury wellness resort will also feature diverse culinary offerings, including a central dining room, the signature Life in Balance Culinary Kitchen, and a marketplace offering mindful and healthful cuisine. Various cooking classes and workshops will be offered to promote and inspire a balanced lifestyle where nutrition is a key focus. Miraval The Red Sea will also feature approximately 4,300 square feet (400 square meters) of meeting space for wellness-focused, experiential activities tailored to improving connections and communication for social and corporate groups.
The Red Sea Project is one of the world's most ambitious regenerative tourism developments. It is expected to become the Kingdom's premier international leisure destination and a cornerstone to Saudi Arabia's tourism industry. The luxury destination is centered around one of the world's hidden natural treasures and is committed to preserving and actively enhancing the natural environment, which spans 10,800 square miles (28,000 square kilometers). It includes 124 miles (200 kilometers) of pristine coastline and an archipelago of more than 90 untouched islands, dormant volcanoes, desert, mountains, and a wide variety of wildlife. Miraval The Red Sea will join Grand Hyatt The Red Sea, which is also under development, as the second Hyatt-branded hotel within the Red Sea development.
The term "Hyatt" is used in this release for convenience to refer to Hyatt Hotels Corporation and/or one or more of its affiliates.

Miraval The Red Sea
Shura Island, Saudi Arabia
Hotel Website
Source: https://www.hospitalitynet.org/announcement/41008014.html
Photos Source: Miraval Austin Resort & Spa — Photo by Hyatt, Hospitality Net
What does that mean for your business?
It means that your chances to increase sales are bigger than ever before. With our data you will be able to reach out to the complete market of hotels in your region and identify hot leads of the hotel industry. All data you need for the approach is available and most importantly is its exactness and accuracy. Many filters and selections to adapt your needs and to easily filter your exact target group.
1,050,000 Hotels and 1,700,000 Hospitality Decision Makers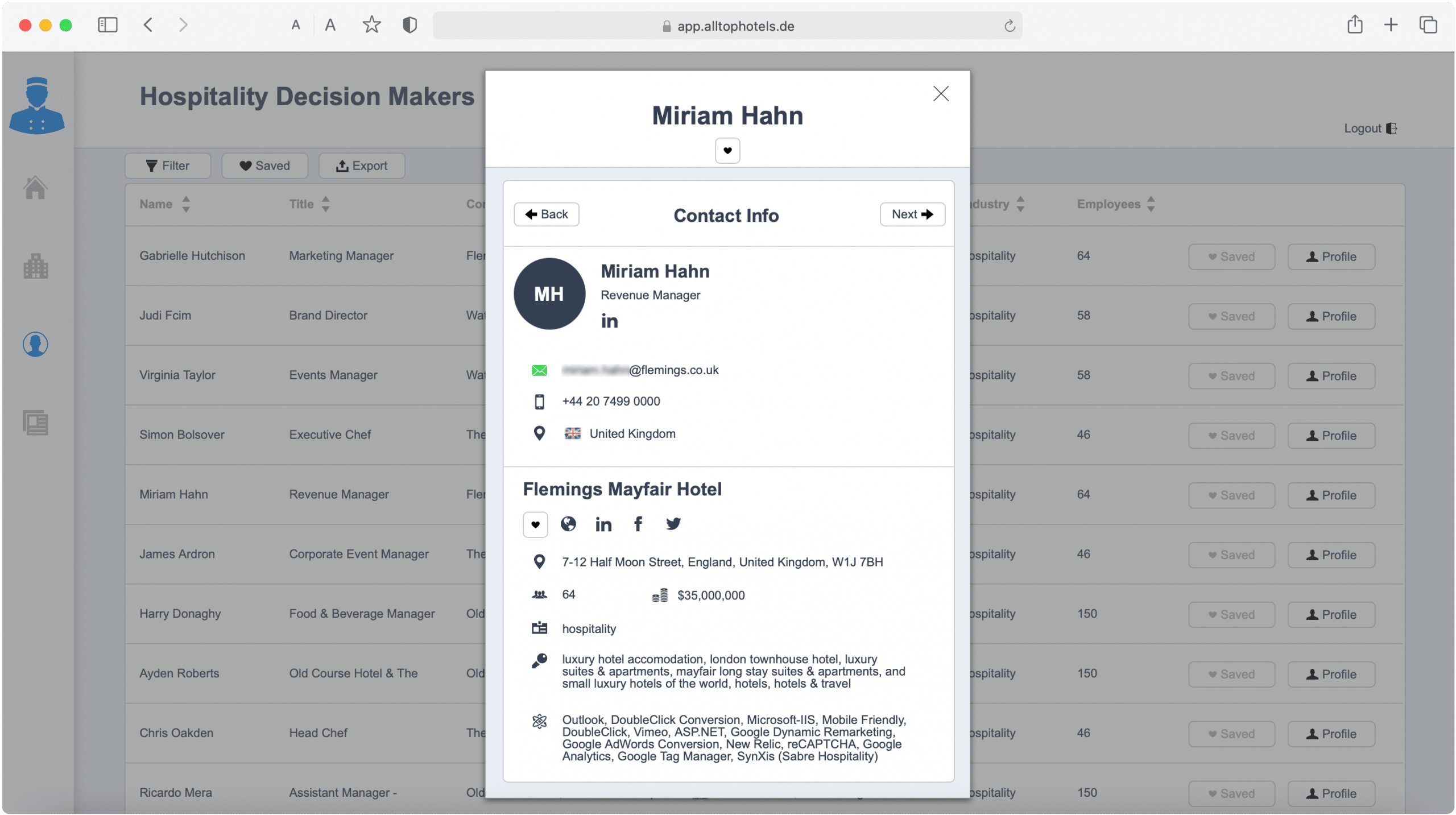 Delivering data is a profession we love
Whatever your target group in the hotels industry is, our data experts can select it for you. Contact us on +49 (0) 2921 5993684 or info@alltophotels.com. We are always here to answer your questions!