Hilton Porto Alegre Hotel in Brazil
Opening in the Capital City of Rio Grande do Sul State, the Hotel Features 170 Rooms, an Indoor Swimming Pool and More Than 10,000 Square Feet of Meeting Space
Hilton (NYSE: HLT) announces its expansion into southern Brazil with the opening of Hilton Porto Alegre – the first Hilton hotel in the state of Rio Grande do Sul. Owned by Pateo Moinhos de Vento Administração e Participações Ltda, a Zaffari group company, and managed by Hilton, the 170-room hotel is conveniently located in the Moinhos de Vento neighborhood, one of the city's most upscale and trendy areas, with limitless dining, shopping and entertainment just steps away.
"We are excited to open the doors of Hilton Porto Alegre and welcome guests in one of the most important commercial and port centers in Brazil," said Jorge Giannattasio, senior vice president and head of operations, Caribbean and Latin America, Hilton. "We look forward to our continued expansion across the country and welcoming travelers to experience Hilton's industry-leading brands in some of Brazil's most sought-after destinations."
Hilton Porto Alegre welcomes guests to a refreshed lobby, lounge area and bar. The hotel will undergo a full renovation of all areas including its spacious guestrooms and suites which provide space for both productivity and rest, with a dedicated work area and comfortable atmosphere with lush bedding, flat screen TVs and thoughtful amenities. For recreation, the hotel features a fully equipped rooftop fitness center, sauna, and indoor heated pool with panoramic views of the city. With two on-site restaurants, guests can savor a variety of culinary options including international cuisine and Brazilian flavors.
Catering to the evolving needs of today's business traveler, Hilton Porto Alegre offers more than 10,000 square feet of flexible meeting space for up to 700 attendees. The hotel also provides premium event services with high-speed internet and video conference infrastructure in all meeting spaces.
Located only three miles from Porto Alegre International Airport, Hilton Porto Alegre offers an ideal location for guests visiting the city for business or leisure. The hotel is across from Moinhos shopping mall, a short walk from Moinhos de Vento Park, one of the city's most famous parks, and five miles from the historic downtown, where guests can visit the Catedral Metropolitana, among other sites.
"We are proud to be working with the Zaffari group on the debut of our first Hilton hotel in the State of Rio Grande do Sul," said Juan Corvinos, senior vice president, development, architecture and construction, Caribbean and Latin America, Hilton. "With this addition, Hilton's presence in Brazil has more than tripled over the last five years, further cementing our commitment to introducing Hilton's portfolio of brands across South America's largest economy."
Source: https://www.hotelnewsresource.com/article119518.html
Photos Source: Swimming pool at the Hilton Porto Alegre, www.hotelnewsresource.com
What does that mean for your business?
It means that your chances to increase sales are bigger than ever before. With our data you will be able to reach out to the complete market of hotels in your region and identify hot leads of the hotel industry. All data you need for the approach is available and most importantly is its exactness and accuracy. Many filters and selections to adapt your needs and to easily filter your exact target group.
960,000 Hotels and 1,600,000 Hospitality Decision Makers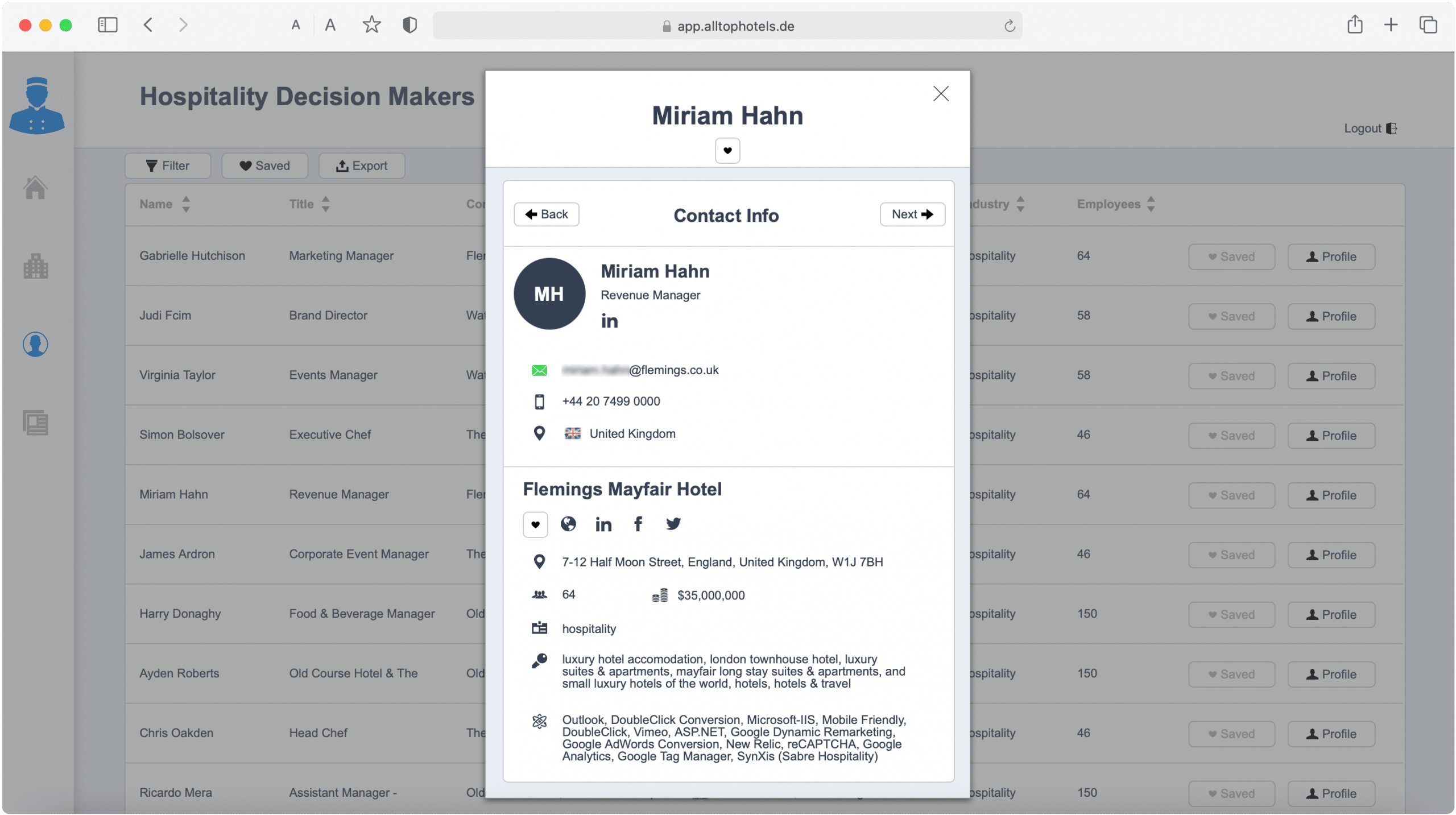 Delivering data is a profession we love
Whatever your target group in the hotels industry is, our data experts can select it for you. Contact us on +49 (0) 2921 5993684 or info@alltophotels.com. We are always here to answer your questions!