Hilton Launches Spark by Hilton Brand
Hilton's Portfolio extends into the premium economy category with more than 100 deals already in various stages of development
Hilton (NYSE: HLT) today announced the launch of Spark by Hilton, the newest addition to its portfolio of brands. Following extensive research, the introduction of Spark by Hilton fills an open space in the industry by creating a new premium economy lodging option to meet the needs of even more guests and owners seeking value, quality and consistency.
Spark by Hilton provides a simple, reliable and comfortable stay for every guest, ​​all at an accessible price. For developers, Spark by Hilton leverages an innovative conversion model to offer a compelling investment option for owners.
Spark by Hilton builds on Hilton's continued work evaluating the market to develop new brands to meet the evolving needs of guests and owners and provide a hotel for every traveler for every stay. Over the last 15 years, Hilton has more than doubled its brand portfolio and number of rooms around the world organically, creating a diverse, yet complementary range of brands across categories.
Serving guests looking to maximize the value of their travel experience, Spark by Hilton will deliver reliable, friendly essentials with unexpected touches. Signature elements of Spark by Hilton will include: ​​​​
Thoughtful Simplicity: Spark by Hilton will offer simple, inspired design with splashes of color and cheer that bring the outdoors in. Each hotel will provide a welcoming sense of arrival with colorful exterior statement walls and energizing artwork. The public space will feature multi-functional seating from communal tables to rocking chairs, offering plenty of options for guests to enjoy breakfast, socialize or work throughout the day. Guest rooms will be comfortable and relaxing so travelers can unwind and recharge for whatever comes next. Focusing on practical amenities, the simple, streamlined furniture will include an open closet, in-room refrigerator, multi-purpose work surface and bright bathroom.
Reliable Service: As part of the Hilton family of brands, ​guests will feel welcome and confident in their stay from the moment they walk through the door. Warm and inviting hotel team members with attention to detail will provide happy and helpful service. And, guests will be empowered with the tools needed to make the most of their stay, such as 24-hour digital check-in and Digital Key. ​
Unexpected Touches: Spark by Hilton will help add value to the guest experience by offering a simple, complimentary breakfast, featuring premium coffee, juice and a signature bagel bar with spreads, so guests can fuel up before hitting the road. The brand will also offer a 24-hour retail market for on-the-go travelers.
Consistent Quality: To ensure the goal of a consistent, quality guest experience, each hotel will be required to complete a full renovation, encompassing all guest-facing areas of the hotel, prior to joining Spark by Hilton and the Hilton family.
"In looking at the economy category, we saw a segment that has grown dramatically but lacks consistency, providing us an opportunity to deliver on the needs of this underserved segment of travelers," said Matt Schuyler, chief brand officer, Hilton. "True to its name, Spark by Hilton signifies the start of something great – a moment of ignition as we add energy and momentum into the category and deliver the most reliable and friendly stays. This breakthrough premium economy brand will deliver the essentials done exceptionally well for every guest, every time along with friendly service – ensuring all travelers can enjoy a great hotel experience where they feel truly cared for."
Hilton is creating greater value for owners and operators with the launch of Spark by Hilton. This cost-effective conversion brand provides a unique opportunity for existing properties by reimagining the economy segment and focusing on areas that drive the guest experience while also providing a consistent look and feel across each hotel.
Owners also will benefit from Hilton's powerful network effect, resilient business model, and high-performing commercial engines, including supply chain management, a cost-effective pricing model and automated customer offerings such as digital check-in and Digital Key.
"Spark by Hilton was developed in close collaboration with our developer community, and we are thrilled by the positive feedback and excitement we have received to date," said Alissa Klees, brand leader, Spark by Hilton. "In fact, we already have more than 100 deals in various stages of development across the U.S., with the first properties anticipated to open this year."
Source: https://www.hotelnewsresource.com/article124328.html
Photos Source: Hilton Launches Spark by Hilton Brand, Hotel News Resource
What does that mean for your business?
It means that your chances to increase sales are bigger than ever before. With our data you will be able to reach out to the complete market of hotels in your region and identify hot leads of the hotel industry. All data you need for the approach is available and most importantly is its exactness and accuracy. Many filters and selections to adapt your needs and to easily filter your exact target group.
1,250,000 Hotels and 2,000,000 Hospitality Decision Makers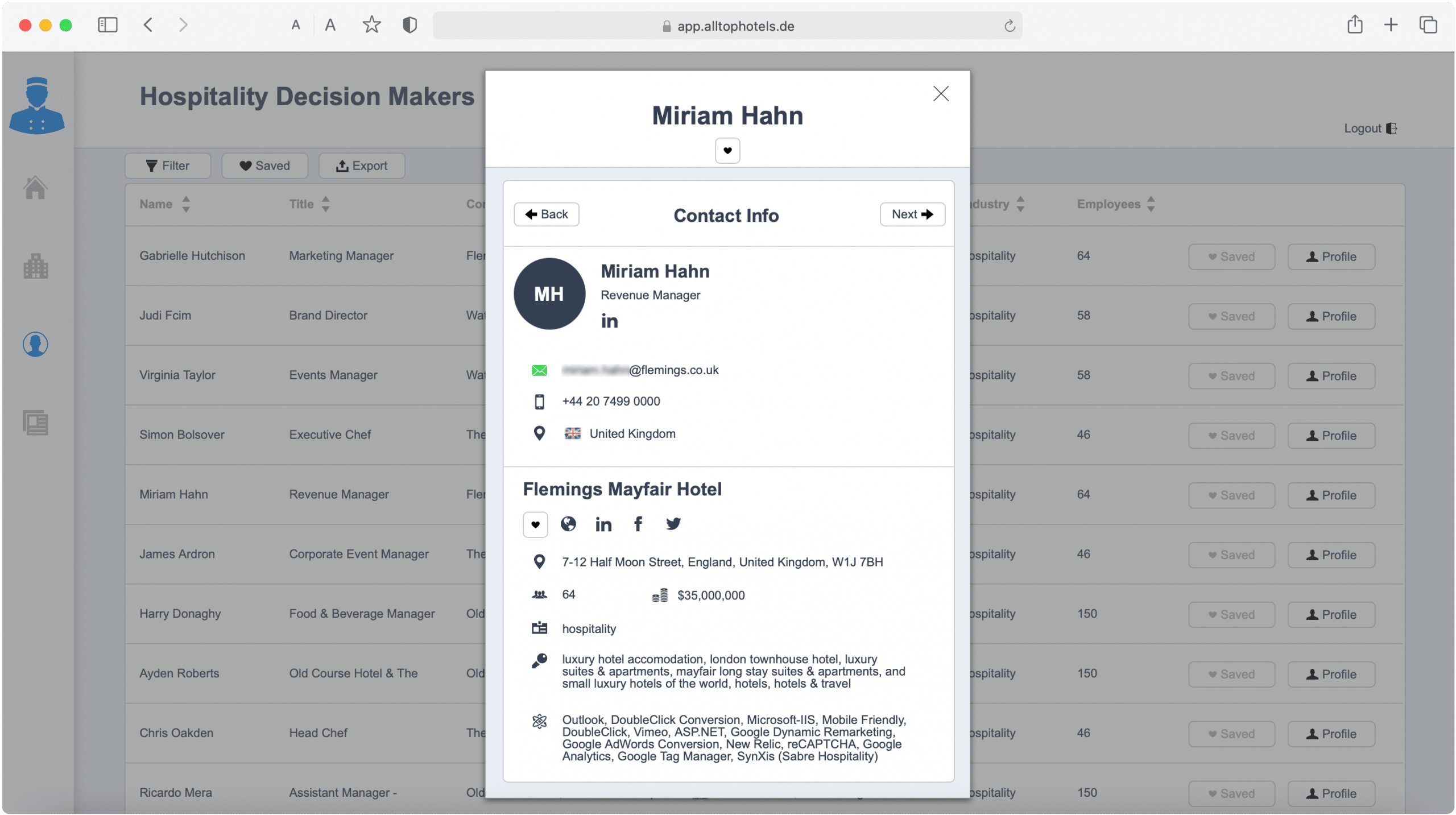 Delivering data is a profession we love
Whatever your target group in the hotels industry is, our data experts can select it for you. Contact us on +49 (0) 2921 5993684 or info@alltophotels.com. We are always here to answer your questions!