Hilton Bengaluru Embassy Manyata Business Park
The mixed‑use complex in Embassy Manyata Business Park featuring dual‑branded hotel sets a new benchmark for hospitality in the region.
Leading global hospitality company Hilton (NYSE: HLT) and Embassy Office Parks REIT (Embassy REIT), India's first publicly listed real estate investment trust, announced the opening of Hilton Bengaluru Embassy Manyata Business Park and Hilton Convention Centre at Embassy Manyata Business Park (Embassy Manyata), Bengaluru. The 266-room hotel from Hilton's flagship brand and connecting conference facilities join the 353-room Hilton Garden Inn Bengaluru Embassy Manyata Business Park, which opened earlier this year. The dual-brand hotel and convention centre form Hilton Hotels Embassy Manyata with the complex owned by Embassy REIT and managed by Hilton.
With 619 rooms, Hilton Hotels Embassy Manyata is one of the largest hotel complexes in South India, and amongst the biggest in the country. The complex brings a unique hospitality offering to North Bengaluru with two hotels, five distinct dining experiences, a state-of-the-art convention centre and a retail hub in the works. Situated within close proximity to retail and leisure facilities in North and Central Bengaluru as well as important commercial business districts, the complex is also conveniently located within a 30-minute drive from Kempegowda International Airport.
A confluence of world-class accommodations, amenities and service from two distinct brands – Hilton Hotels & Resorts and Hilton Garden Inn – provides more options for the modern traveller. Guests can enjoy 'bleisure' experiences with technology-enabled efficiencies throughout their stay, a spectrum of meeting and event spaces, a collection of five distinct dining experiences and access to a rooftop temperature-controlled swimming pool and a spacious fitness centre with pool views.
With the dual-branded hotel offering direct access to approximately 60,000 square feet of convention space, guests can enjoy integrated cutting-edge MICE experiences in the heart of North Bengaluru. The one-of-a-kind complex offers seamless scalability for physical and hybrid events powered by advanced event technology solutions. The convention centre redefines the Indian convention landscape and caters to events of varying scales. It includes a 13,000-square-foot pillarless grand ballroom that can accommodate up to 1,500 guests, and multiple versatile meeting and event spaces.
About Hilton Bengaluru Embassy Manyata Business Park
The embodiment of modernity and sophistication, Hilton Bengaluru Embassy Manyata Business Park boasts 266 contemporary guest rooms and suites fitted with advanced technologies and amenities. Guests can treat their palates to a unique culinary experience with three different dining concepts within the hotel. Restaurants 'Neo Kitchen' and 'Neer' serve an excellent spread of signature dishes, authentic cuisine and daily specials, while full-service bar 'Double Up' offers guests a haven to sip on craft cocktails, local beer and varietal wine.
About Hilton Garden Inn Bengaluru Embassy Manyata Business Park
Hilton Garden Inn Bengaluru Embassy Manyata Business Park is amongst the largest Hilton Garden Inn hotels in the Asia Pacific region and combines upscale and affordable accommodations with modern amenities for a hotel experience that is simply on another level. The hotel boasts 353 stylish and functional guest rooms including 11 suites. At restaurant F5, guests can enjoy a sumptuous spread of authentic local cuisine, international delicacies, and daily specials, while the full-service lobby bar, TechTonic, serves delicious meals and drinks throughout the day. Guests can also enjoy round-the-clock convenience with a variety of grab-and-go options including snacks and locally sourced food and beverages at The Shop, a 24-hour, self-service retail space in the hotel lobby.
Both the Hilton and Hilton Garden Inn hotels within the complex are part of Hilton Honors, the award-winning guest-loyalty program for Hilton's 18 distinct hotel brands. Members who book directly on the hotels' websites will have access to instant benefits, including a flexible payment slider that allows members to choose nearly any combination of Points and money to book a stay, an exclusive member discount and free standard Wi-Fi. Members also have access to contactless technology exclusively through the industry-leading Hilton Honors mobile app, where Hilton Honors members can check-in, choose their room and access their room using Digital Key.
Hilton Bengaluru Embassy Manyata Business Park
Outer Ring Rd,MS Ramaiah North City, Manayata Tech Park, Nagawara
Bengaluru, 560045
India
+91 80 6901 2345
Source: https://www.hospitalitynet.org/announcement/41008001/hilton-bengaluru-embassy-manyata-business-park.html
Photos Source: Hilton Bengaluru Embassy Manyata Business Park — Photo by Hilton, Hospitality Net
What does that mean for your business?
It means that your chances to increase sales are bigger than ever before. With our data you will be able to reach out to the complete market of hotels in your region and identify hot leads of the hotel industry. All data you need for the approach is available and most importantly is its exactness and accuracy. Many filters and selections to adapt your needs and to easily filter your exact target group.
1,050,000 Hotels and 1,700,000 Hospitality Decision Makers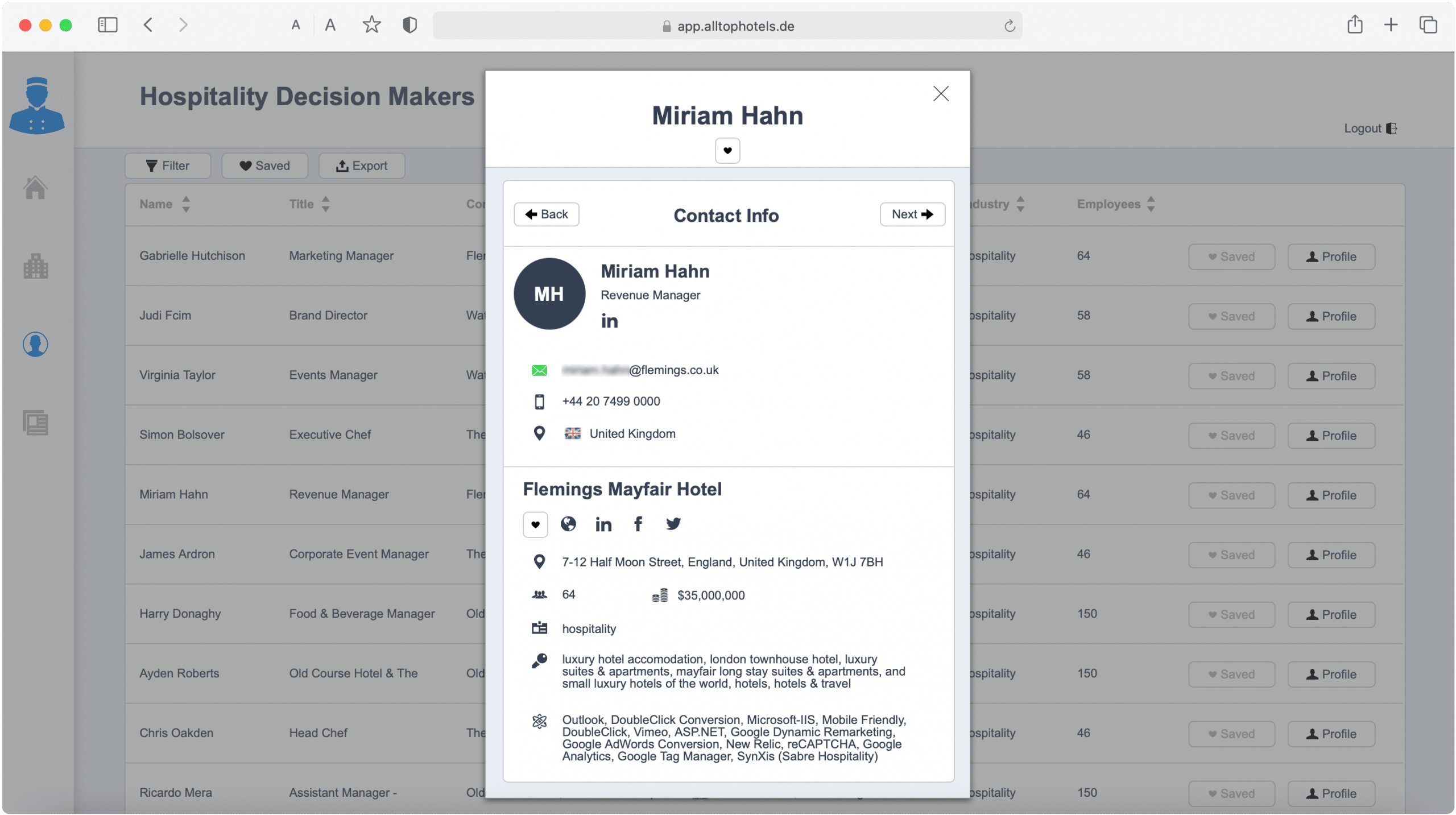 Delivering data is a profession we love
Whatever your target group in the hotels industry is, our data experts can select it for you. Contact us on +49 (0) 2921 5993684 or info@alltophotels.com. We are always here to answer your questions!