Highgate Launches HG Portugal with 18 Hotels
Highgate has announced two significant European developments – the launch of HG Portugal and the relaunch of the Dorsett City London Hotel.
HG Portugal begins with a portfolio of 18 hotels spanning the Algarve, Lisbon, Porto, and several other markets throughout Portugal. The portfolio includes hotels operating within the Hilton and IHG brand families, as well as several noteworthy independent hotels such as Cascade Resort, Salgados Palace, and Sao Rafael Atlantico. The portfolio includes lifestyle boutique hotels, urban full-service hotels, waterfront luxury resorts, and large convention facilities, each of which draws from core competencies across Highgate's global portfolio.
As part of building a best-in-class operating capability in Portugal, Highgate has appointed Alexandre Solleiro as Chief Executive Officer of HG Portugal. Alexandre brings over 30 years of hospitality leadership experience in Portugal and is joined by a dedicated leadership team across all disciplines. Alexandre and the HG Portugal team will build off of Highgate's existing platforms and resources across Europe, the United States, the Caribbean and Latin America, while bringing dedicated Portugal-based experience.
Highgate brings to the Portugal market global experience as an owner/operator in leisure destination markets as well as in branded, lifestyle, and city-center hotels, and adds distinct value to its managed hotels through a platform designed to optimize operational efficiencies, distribution, and hotel concept development.
"This acquisition represents an excellent opportunity to add well-located assets to Highgate's platform and achieve immediate scale in a region that's experiencing exceptionally strong secular growth," said Nicholas Mellis, Vice President of Acquisitions and Development at Highgate. "We look forward to bringing to bear the capabilities and insights from Highgate's approximately 500-hotel management platform to launch this dedicated Portugal operating platform, and to continuing to scale across Europe."
The launch of HG Portugal comes on the heels of two portfolio additions in the UK market, announced in October 2021 – the Dorsett City London Hotel and Grosvenor House Suites in London's Mayfair District. Effective March 1, 2023, Highgate will also begin operating the Dorsett City London Hotel under a relaunched concept as part of a larger repositioning.
"The launch of HG Portugal complements Highgate's recent re-entry into the UK management space, furthering the application of our proven business towards strategic global opportunities," said Arash Azarbarzin, Chief Executive Officer of Highgate. "Honed over the last 30 years, we will apply our innovative approach to operations, distribution, food and beverage, branding, and positioning during a remarkable moment for Portugal, as more travelers are discovering its magnificence as a prime destination."
Source: https://www.hotelnewsresource.com/article124318.html
Photos Source: Salgados Palace Hotel, part of HG Portugal, Hotel News Resource
What does that mean for your business?
It means that your chances to increase sales are bigger than ever before. With our data you will be able to reach out to the complete market of hotels in your region and identify hot leads of the hotel industry. All data you need for the approach is available and most importantly is its exactness and accuracy. Many filters and selections to adapt your needs and to easily filter your exact target group.
1,250,000 Hotels and 2,000,000 Hospitality Decision Makers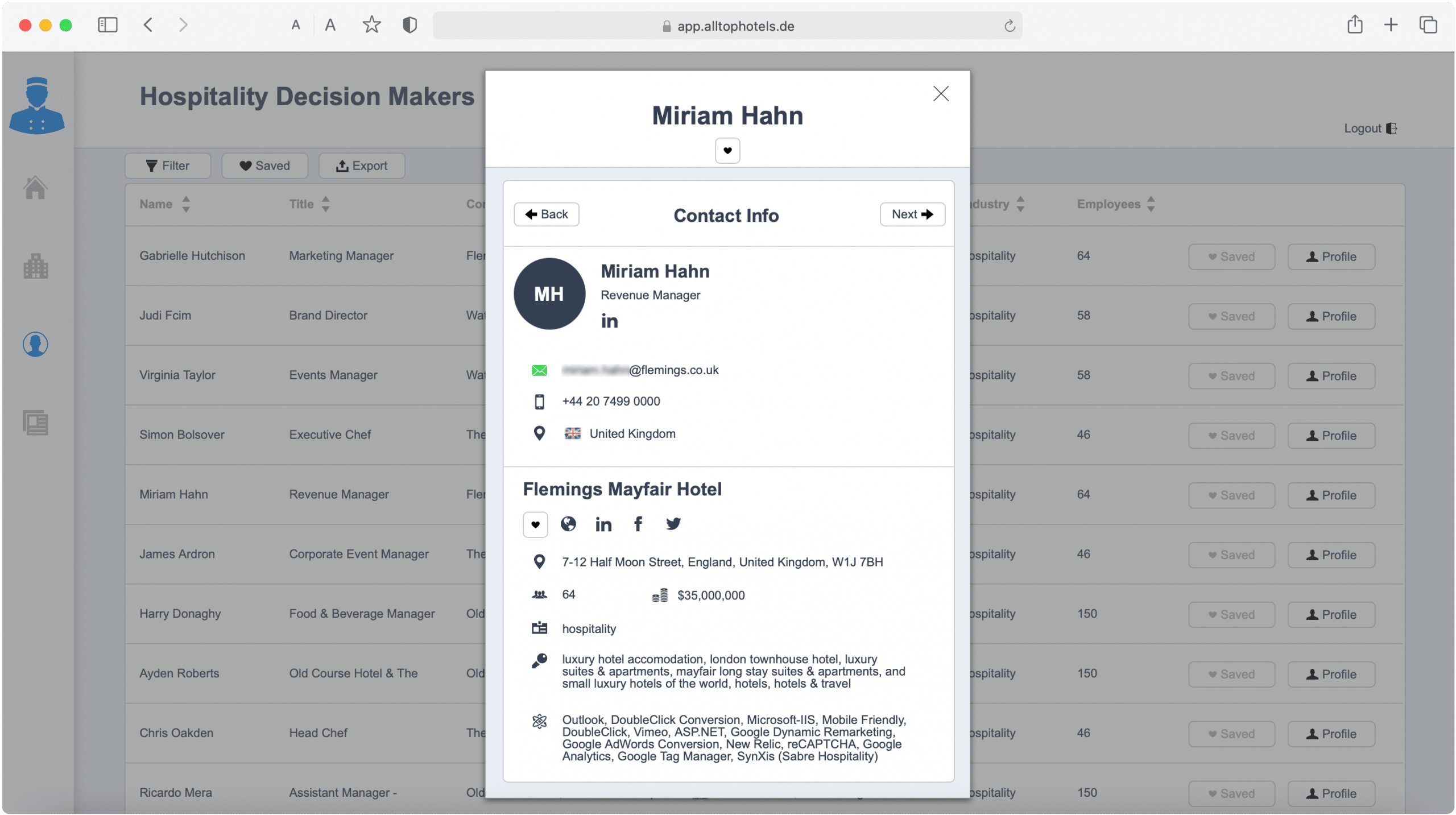 Delivering data is a profession we love
Whatever your target group in the hotels industry is, our data experts can select it for you. Contact us on +49 (0) 2921 5993684 or info@alltophotels.com. We are always here to answer your questions!