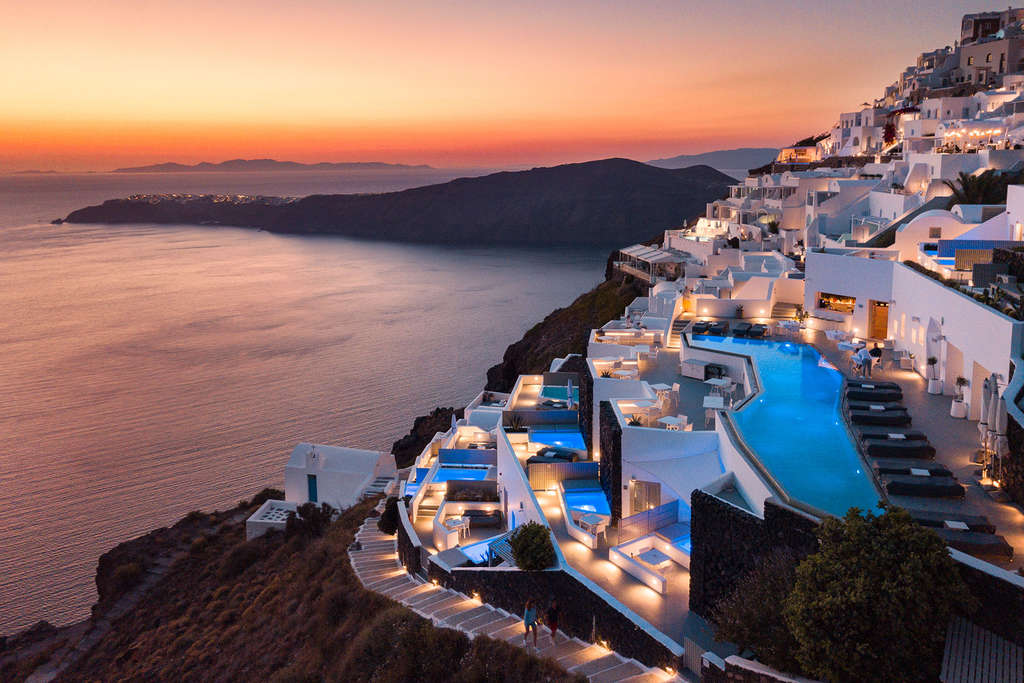 Grace Hotel, Auberge Resorts Collection
Grace Hotel, Auberge Resorts Collection—an award-winning boutique hotel tucked into Santorini's cliffs overlooking the caldera—has re-opened its doors for the season. The 20-room sanctuary debuts redesigned spaces across the property, including a luxurious two-bedroom Villa, and new programming that encourages immersion into the local Aegean culture. Additionally, partnerships with Athens' most lauded culinary and cocktail personalities forge an illustrious path for the hotel as Santorini's most revered culinary destination. Located in the quaint village of Imerovigli, Grace Hotel, Auberge Resorts Collection is a modern respite that feels worlds away and invites all travelers to uncover the Greek Islands' creativity, cuisine and culture.
A Michelin Star Voyage Into Mediterranean Cuisine
Introducing an exploration of the Mediterranean's most exquisite flavors, Chef Lefteris Lazarou of Athens' beloved Varoulko Seaside—which received the first Michelin star bestowed on a chef serving Greek cuisine in 2002 and has consecutively held one ever since—opens his second restaurant at the hotel. With Lazarou's protégé Komninos Mouflouzelis at the helm as the resort's new Head Chef, Varoulko Santorini combines genuine respect for gastronomic tradition and cutting-edge creativity. The new restaurant, which is now open, features an entirely Mediterranean menu balanced by organic produce, local grains, herbs and spices, but primarily driven by fresh seafood. Chef's signatures, such as squid with pesto Genovese and crayfish tartar with fresh basil and zesty yuzu, are plated with the island's highest quality, freshest ingredients. Lazarou's passion for sourcing superior materials and experimenting with technique harmonizes Grace Hotel's commitment to excellence to compose an experience that is both classic and refreshing. Varoulko Santorini also boasts the island's most exceptional vantage point for sunset views in a completely reimagined contemporary space for indoor and outdoor dining.
"Santorini has long served as a place of inspiration for me," said Chef Lefteris Lazarou. "It is a dream realized to collaborate with Grace Hotel and the culinary visionaries at Auberge Resorts Collection. Varoulko Santorini will marry the island's freshest flavors with the artistry of Athens for a truly unforgettable fine dining experience rooted in the surrounding land and sea."
Elevating Santorini's Island Vibes with Creative Mixology
The hotel's 363 Bar has been reimagined by Thanos Prunarus, the founder of Baba Au Rum, which has earned international acclaim as a regular on the World's 50 Best Bars list and is known as the birthplace of Athens' cocktail culture. Prunarus has curated a new avant-garde menu, featuring some of the best spirits from around the world, exclusively for Grace Hotel, Auberge Resorts Collection. The collaboration celebrates Santorini's island vibes by placing a heavy emphasis on rum. Guests can now enjoy unconventional tiki and rum cocktails from Baba Au Rum's original menu as well as libations crafted just for the hotel. Set to be Santorini's most spirituous yet luxurious cocktail destination, 363 Bar is open to guests outside of the hotel and features a lite bites menu by Chef Lazarou.
Introducing One-of-a-Kind Guest Experiences
The intimate 20-room property unveils a redesign of the private two-bedroom Villa. Designed in the spirit of the Mediterranean's laidback seaside lifestyle, the spacious Villa's new look blurs the indoors and outdoors and comprises clean lines, whitewashed furniture and luxurious natural materials. The retreat is equipped with unique amenities like its own spa with a traditional hammam, full kitchen, swimming pool, wine & cigar cellar and dedicated butler. Villa guests can reach true indulgence with exclusive experiences like sunset yoga on the private terrace, cooking classes in the state-of-the-art kitchen or massages and facials in the spa.
This summer, Grace Hotel, Auberge Resorts Collection will also launch a brand new experiences program driven by authentic local traditions and secret Santorini spots. Culinary experiences include honey tastings, private sunset picnics, and cooking classes with a Greek yaya (or "grandmother"); artistic classes include Greek sandal making and the art of pottery; and, adventure excursions include jet ski safaris, hidden hikes with a local guide, and scuba diving the crystal clear waters and volcanic reefs.
"Very little has been unveiled to the world about the Greek Islands' unique local culture. In debuting the reimagined Grace Hotel experience, each guest's stay is deliberately designed for the ultimate immersion in our stunning destination," explains George Avgoustis, general manager of Grace Hotel, Auberge Resorts Collection. "Santorini has a greater story to tell, and our team is honored to convey it through the Auberge lens of creative culinary, nourishing wellness and authentic local experiences."
Nightly rates start at $805 USD. To make a reservation or for additional information, please visit aubergeresorts.com/gracehotel.
Grace Hotel, Auberge Resorts Collection
Imerovigli, 847 00
Greece
+30 2286 021300
Source: https://www.hospitalitynet.org/announcement/41007884/grace-hotel-auberge-resorts-collection.html
Photos Source: Grace Hotel, Auberge Resorts Collection — Photo by Auberge Resorts Collection, Hospitality Net
What does that mean for your business?
It means that your chances to increase sales are bigger than ever before. With our data you will be able to reach out to the complete market of hotels in your region and identify hot leads of the hotel industry. All data you need for the approach is available and most importantly is its exactness and accuracy. Many filters and selections to adapt your needs and to easily filter your exact target group.
1,050,000 Hotels and 1,700,000 Hospitality Decision Makers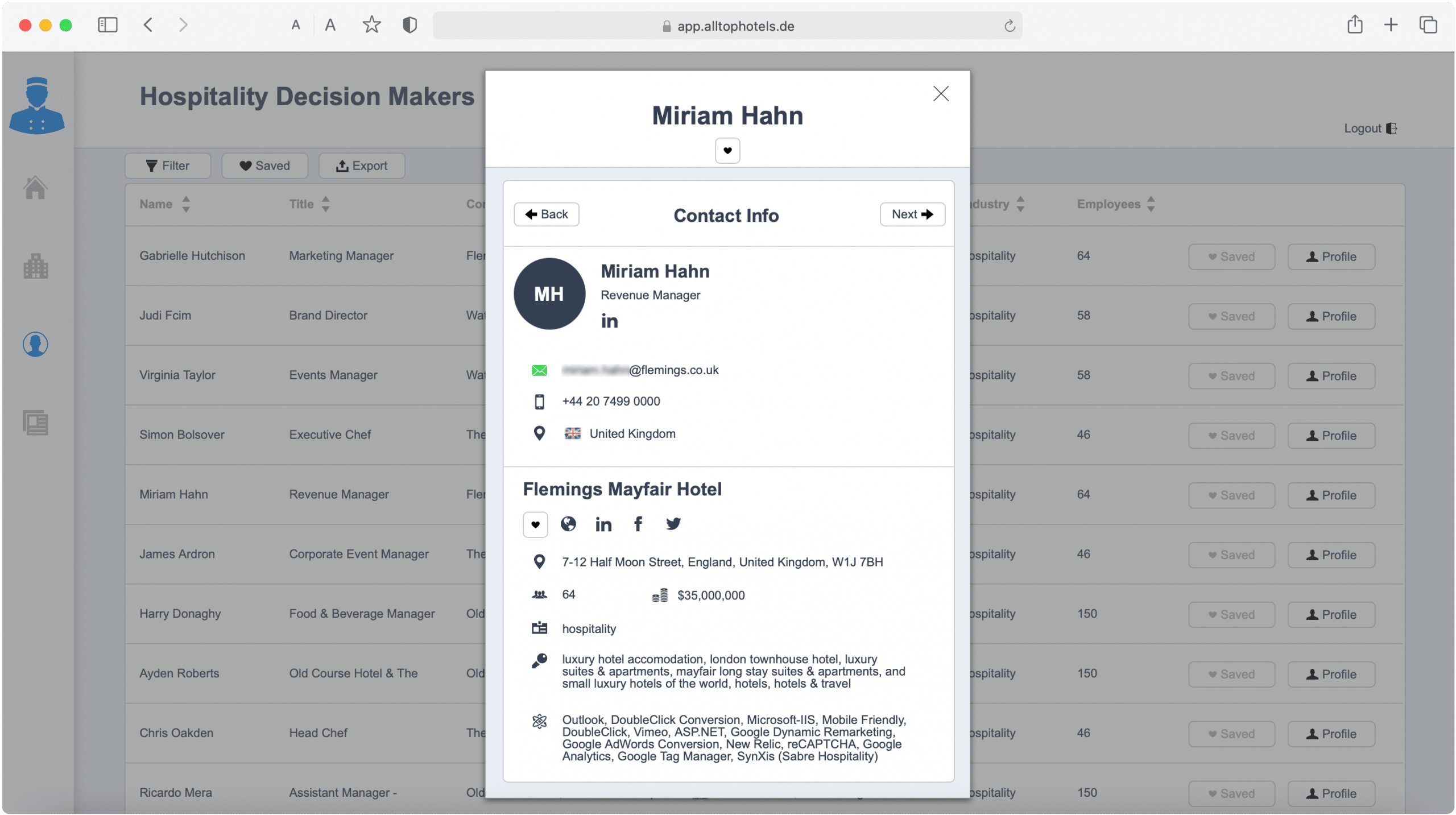 Delivering data is a profession we love
Whatever your target group in the hotels industry is, our data experts can select it for you. Contact us on +49 (0) 2921 5993684 or info@alltophotels.com. We are always here to answer your questions!