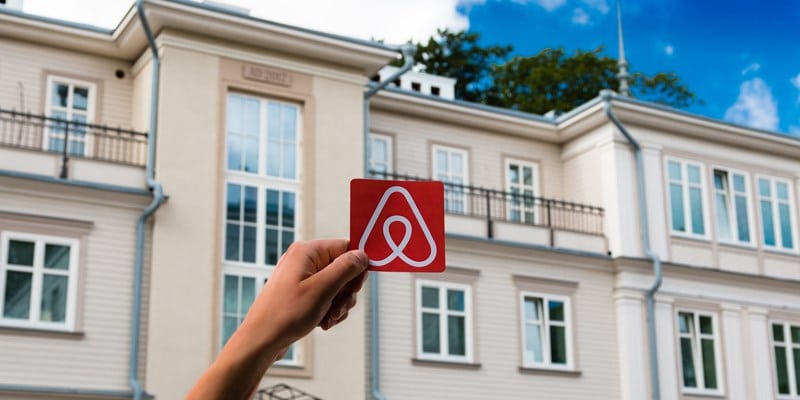 Airbnb revives hotel strategy, moves closer to rival OTA model
Airbnb CEO Brian Chesky has repeatedly talked up the importance of flexibility, saying on the company's second quarter earnings call, "flexibility is now a permanent part of travel."
In May, the company added options to create flexibility for guests – giving them the ability to search without fixed dates, destinations or property parameters.
Now Airbnb is testing a new API-powered display that gives channel managers and distribution platforms the ability load multiple rates plans for Airbnb properties – creating flexibility for both travelers and hosts and potentially making the platform more attractive to traditional hotels – and more directly in competition with online travel agencies such as Booking.com.
Italy-based RoomCloud, a channel manager and booking engine for hotels and rentals, began discussing rate plans with Airbnb in April and started assisting with the development of the beta product in July, according to the company's marketing manager, Silvia Gualano.
"The main goal of Airbnb is to propose it to hotels," Gualano says.
"It can work for hotels and apartments, but it's even more interesting for hotels because they are more used to working with rate plans on other OTAs like Booking.com or Expedia. So it's like Airbnb wants to propose as a general OTA not just for vacation rentals."
Gualano says owners can define a series of rate plans – for example offering room-only and room with breakfast – and Airbnb will show a maximum of two, the cheapest option that is refundable and the cheapest option that is non-refundable.
To simplify the launch for its properties that want to participate, RoomCloud is copying the same rate plans that appear on Booking.com and sending them to Airbnb. The company has one property live with the new rate plan display and is onboarding more, one at a time.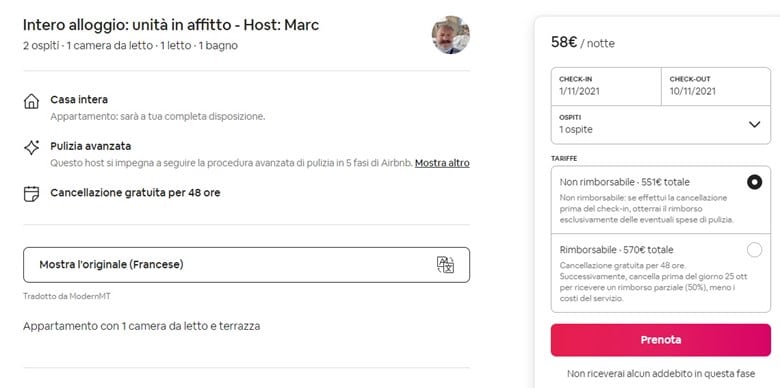 "Our support team is doing it at the moment, but in the future we've communicated to our clients they can do everything on their own," she says.

San Diego-based Cloudbeds is also part of the beta testing.

"Airbnb has been needing to expand its capabilities from a distribution perspective to include the ability to load rate products, and this API is exactly that," says Sebastien Leitner, vice president of partnerships for Cloudbeds.

Leitner says the API came about in part due to requests from hotels and also because it enables Airbnb to be more competitive by accessing more rates from its properties.

"I think Airbnb is really pursuing powering everything in lodging. That's the biggest story for me," Leitner says.

"Airbnb is still super, super excited to onboard as much vacation rental supply as possible. They are not slowing down their growth from a vacation rental perspective, they are just adding on top of that. They are really on a mission to sell any type of lodging."

Leitner notes Airbnb is also ramping up work at HotelTonight – acquiring supply and hiring market managers. A lengthy online list of open roles at HotelTonight seems to confirm that – which is a notable shift from Chesky's announcement in May 2020 in a memo to staff that, due to the pandemic, the company would "need to reduce our investment in activities that do not directly support the core of our host community.
We are pausing our efforts in Transportation and Airbnb Studios, and we have to scale back our investments in Hotels and Lux."
Hostfully co-founder and president David Jacoby says a new rate plan strategy is another example of Airbnb following Booking.com's lead – first evidenced in changes Airbnb made to its fee structure for hosts and guests.

"And Booking.com has been a bit of a leader – maybe because of its hotel inventory – on the multiple rate plans as well. So this is another example of Airbnb I don't want to say copying, but following in their footsteps," Jacoby says.

"Booking.com has always done this, and lately they have been doing a big promotion to hosts and property managers to have multiple rate plans to show that flexibility."

D-Edge Property Solutions is another distribution technology provider working with Airbnb on testing new rate plan solutions. Analysis by the company has found Airbnb is gaining share of distribution for its hotels, and Léa Vernet, head of partnerships, says offering more granularity in pricing will likely boost Airbnb even more.

"This will make Airbnb more attractive, because it will put Airbnb at the same level as any other OTA… hotels will be able to play with their rates and offering online with the same functionality as Booking.com or Expedia," Vernet says.

IDeaS chief evangelist and chief development officer Klaus Kohlmayr says the pandemic has only heightened the value of flexibility in the eyes of consumers, and in the 20 years that traditional hotels have offered the choice of refundable and non-refundable rates, this type of pricing strategy has been shown to drive conversions.

"That's why it's still around," he says. "It's a fact when you show multiple options people react positively. As a consumer you want choice and to pick what is right for you."

And says Gualano, "Travelers will now be able to rediscover the price logic they are used to finding in other OTAs. Especially in this period of uncertainty, this will ensure greater confidence and serenity when booking."

When asked to comment on this testing, an Airbnb spokesperson says, "We are always testing new ways to innovate our products to make hosting easier, but we have no news to share at this time."
Source: https://www.phocuswire.com/airbnb-revives-hotel-strategy-moves-closer-to-rival-ota-model
Photos Source: phocuswire
What does that mean for your business?
It means that your chances to increase sales are bigger than ever before. With our data you will be able to reach out to the complete market of hotels in your region and identify hot leads of the hotel industry. All data you need for the approach is available and most importantly is its exactness and accuracy. Many filters and selections to adapt your needs and to easily filter your exact target group.
631,000 Hotels and 1,000,000 Hospitality Decision Makers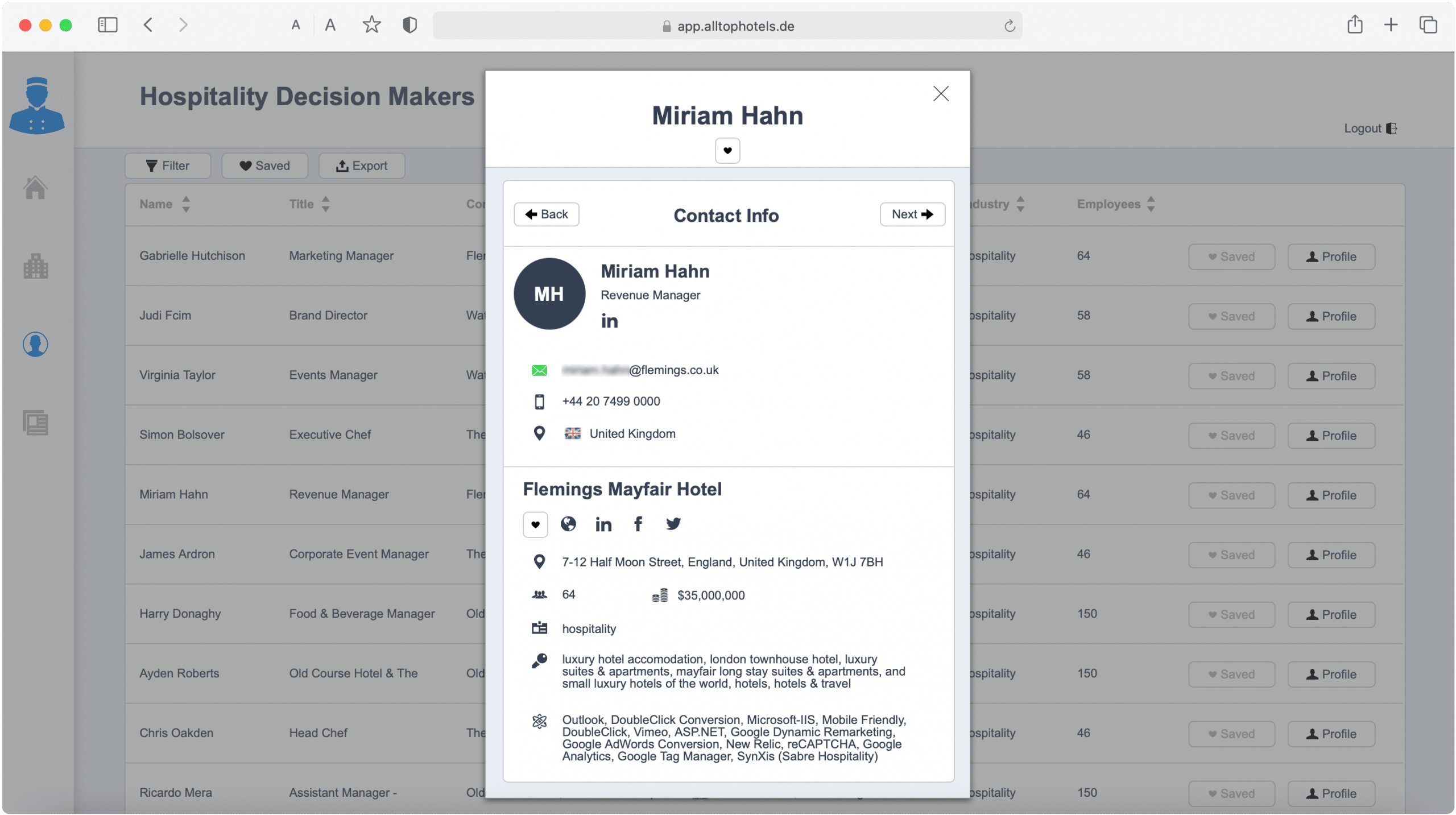 Delivering data is a profession we love
Whatever your target group in the hotels industry is, our data experts can select it for you. Contact us on +49 (0) 2921 5993684 or info@alltophotels.com. We are always here to answer your questions!