127 Room YOTEL Lisbon World Trade Center to Open in 2024
YOTEL today announced a new YOTEL in Lisbon to open in 2024. The new property will form part of the Foz Vintage Group's World Trade Center development slated to be Portugal's most innovative and disruptive Business Park.
The 127 room YOTEL Lisbon WTC will be located within the World Trade Center Lisboa, minutes away from Lisbon city center, a short drive from the beaches in Cascais, and adjacent to Monsanto, the largest green area in the region. The campus, totaling over 35,000 SQM, will also include office, retail, and recreational facilities with the ethos of promoting physical and emotional well-being through clever accessible, and sustainable solutions. Like YOTEL, the Center has been designed with flexible, adaptable, evolving spaces, encouraging collaboration, networking, and productivity by delivering comfort and time-saving technology. YOTEL will join other major corporations based in the development, including Worten, Bayer, and Helm.
WTC Lisbon is part of the World Trade Center network, the world's largest business, and investment platform, spanning 322 cities across 90 countries. YOTEL Lisbon WTC will be the first of two YOTEL properties to be part of the international WTC ecosystem, with the second to be announced later this year.
"Lisbon has always been a priority for YOTEL's expansion, particularly following the opening of YOTEL Porto last year," said Rohan Thakkar, Chief Development Officer, YOTEL. "We are delighted to have signed a long-term management agreement with Foz Vintage, a group that defines its projects on innovation, the environment, and its people, the same values which we embrace at YOTEL. YOTEL Lisbon WTC will further our expansion strategy across Southern Europe, both within Portugal and nearby markets such as Spain and France."
According to Vasco Fonseca, COO of the FVC Group, "YOTEL offers a concept perfectly aligned with our vision at WTC Lisbon, which gives priority, above all, to innovation and technology, sustainability and people's well-being. YOTEL's spaces are designed to create a unique experience for each stay, able to engage and connect guests. Its auditorium will also serve as a stage for major events, in particular, to receive the schedule that we foresee for the WTC Business Club, which aims to be a space of choice for business networking and for the discussion of strategic themes for companies and projects, nationally and internationally."
The hotel will feature a restaurant, event space, and a panoramic rooftop bar, all catering to both local office workers and in-house guests, alongside a Grab+Go, co-working areas, and a 24/7 fitness center with state-of-the-art equipment. The hotel will be the ideal accommodation for people visiting and working in the WTC or one of the other nine business parks located within a three-kilometer radius.
YOTEL currently operates 19 hotels around the globe and has another 13 under development, with a YOTEL /YOTELPAD property opening in Miami in May and YOTEL Geneva Lake opening later this year.
Source: https://www.hotelnewsresource.com/article120655.html
Photos Source: Rendering of the YOTEL Lisbon WTC, Hotel News Resource
What does that mean for your business?
It means that your chances to increase sales are bigger than ever before. With our data you will be able to reach out to the complete market of hotels in your region and identify hot leads of the hotel industry. All data you need for the approach is available and most importantly is its exactness and accuracy. Many filters and selections to adapt your needs and to easily filter your exact target group.
1,050,000 Hotels and 1,700,000 Hospitality Decision Makers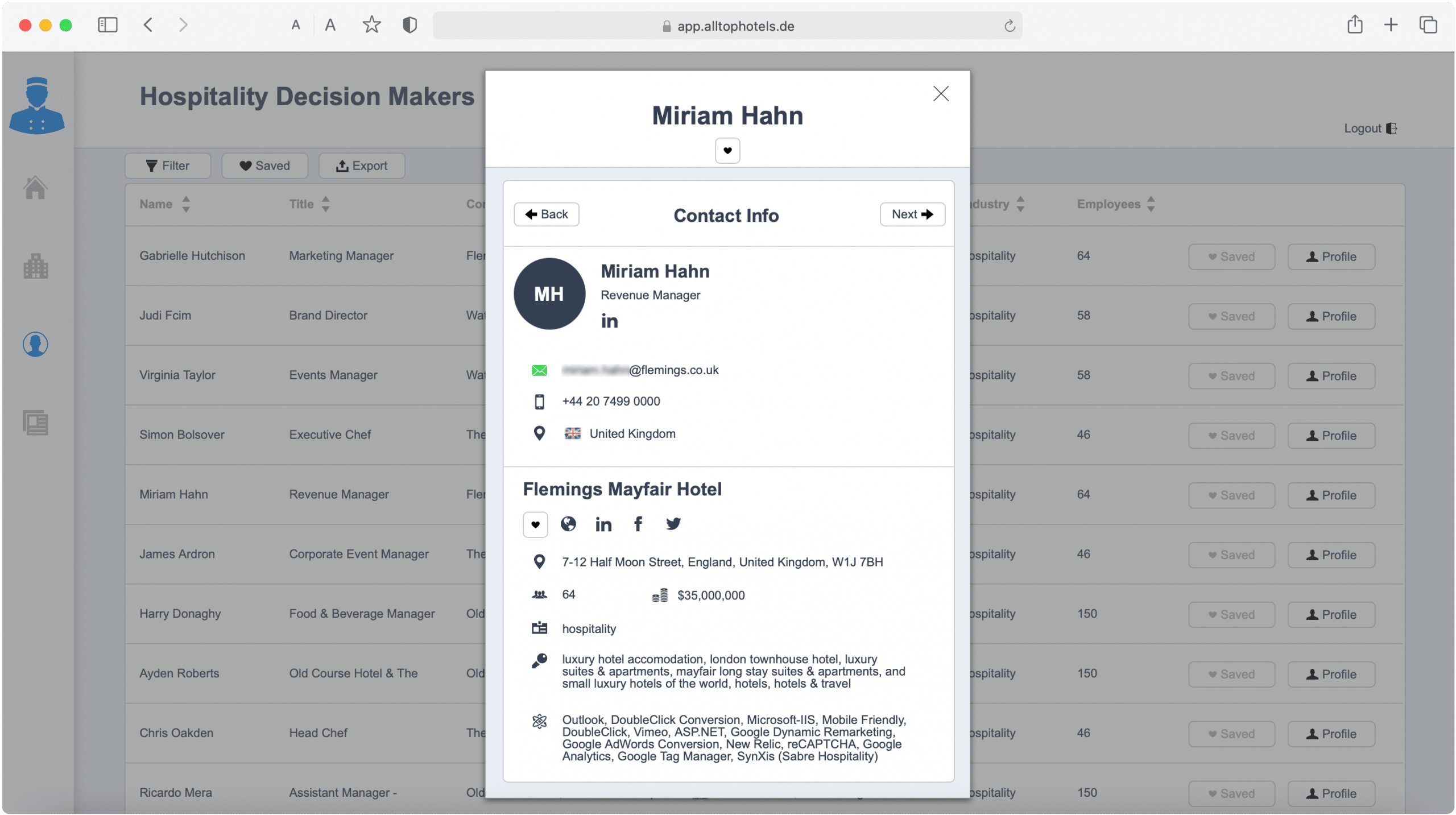 Delivering data is a profession we love
Whatever your target group in the hotels industry is, our data experts can select it for you. Contact us on +49 (0) 2921 5993684 or info@alltophotels.com. We are always here to answer your questions!